1898 Weatherford, Oklahoma
by Kelly Gale Amen
Bronze
Dimensions: 19 x 96 x 24
Gift of the artist through the City of Weatherford honoring the homesteading families of May and Caesar Folks, Emma and Amen, 2006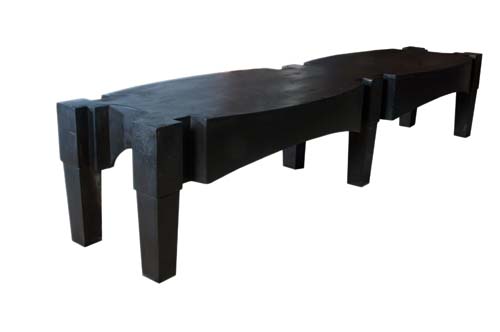 The Artwork
Unlike many artworks in the Oklahoma State Art Collection which are to be viewed but not touched, 1898 Weatherford, Oklahoma is a bronze bench which is meant to be enjoyed for its aesthetic visual beauty and its functionality. This art bench is designed with a symmetrical shape of repeated rectangular shapes and two large oval forms. Designed to be functional, the artwork will show wear in time as a visual record of its use.
The Artist
Kelly Gale Amen is a native of Weatherford, Oklahoma. In 1972, he earned his Bachelor of Arts from the University of Oklahoma and moved to Houston where he began his professional design career. In 1974, he started his own design business, KGA Inc., and has been an influential participant in the arts and design community for decades. Amen's work has been featured in all available media from locally printed articles to nationally televised broadcast. His work is also published in books and magazines distributed nationally.

In the 1990s at a time when functional art was moving into the realm of fine art, Amen began creating his own art furniture to illustrate to his personal vision. He is a founding member of the American Society of Furniture Artists. His art furniture can be seen in many museums and public areas including the Houston Museum of Natural Science, the Stafford Air and Space Center in Weatherford, Oklahoma, and the National Route 66 Museum in Elk City, Oklahoma.

With his activities ranging from his tireless support of the arts to active participation as a creator of functional art, furniture, and sculpture, Amen enjoys a reputation both nationally and internationally for cutting edge concept and design.