Oil Spill on Gaines Creek
by Zolli Page
Handmade paper vessel
Dimensions: 4 x 7 x 4
Gift of Pamela Husky, 2004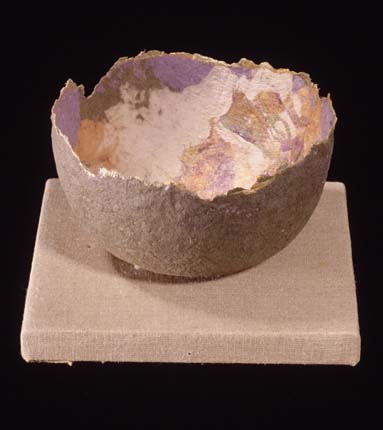 The Artwork
With Oil Spill on Gaines Creek, Zolli Page has created an open form with a dark exterior and an interior with tan, violet, and orange. The fragile form with its cool exterior and visually warm interior, lead the viewer to speculate upon the message of this work.

In her artist statement, Zolli Page explains her choice of process and form:

"The container form, layering, and interlacing are strong in my work. Traditionally, the vessel shape has suggested a utilitarian function; however, in paper the same shape is vulnerable and is ideal for making an offering. My vessels are designed as a container for the spirit...The concept of layering suggests you can add or take away, which appeals to me. Many elements in nature are layered- the earth, trees, clouds, and the human personality. Interlacing reminds me of the healthy interactions in interpersonal relationships. Each individual brings unique contributions to the relationship and together form a stronger unit."



The Artist
Zolli Page paved the way in Oklahoma for many future fiber artists who chose the medium of paper. She earned a Bachelor of Science in 1966, Master of Education from Phillips University in 1969, and her Doctorate of Education from Oklahoma State University in 1975. In addition to university education, Page studied carious weaving, dyeing, and paper-making techniques with artists across the U.S. including participating in a special studies program at the Center for Textile Arts in Berkley, California. Page exhibited across Oklahoma as well as California and Kansas, where her work was featured in the Wichita Art Museum. In addition to exhibiting her work, Page also creating many commissions. Upon her death, the Handweavers League of Oklahoma established an annual award in her name.