Landscape with Figure
by Bill Harrison
Oil on canvas
Dimensions: 13 x 18
Gift of the Oklahoma State Senate Historical Preservation Fund, Inc., 2004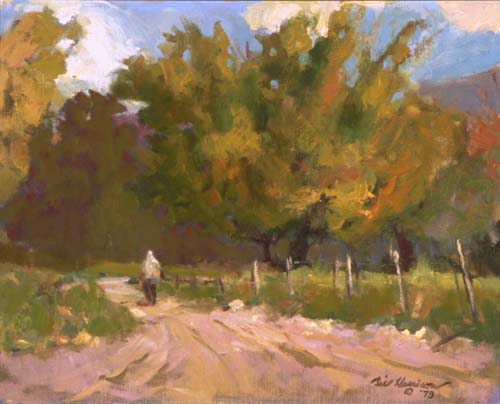 The Artwork
Loosely painted in an impressionistic style, this oil on canvas painting may remind some viewers of a leisurely early fall walk. Though it is unclear what location this painting depicts, the artist provides much information about the weather. As the figure makes his way down a dirt road, he passes green grasses with patches of yellow and brown. These same colors can be seen in the leaves of the trees. The blue skies and fair weather clouds along with the figure's apparent long sleeve jacket indicate that the weather may be quite pleasant.

With one-point perspective, the artist shows depth as the figure travels down a dirt road which shares a vanishing point with the wooden fence posts.

The Artist
Bill Harrison attended the Kansas City Art Institute and the Art Center College in Los Angeles. For twelve years, he worked professionally as a commercial artist in Los Angeles, Wichita, and Tulsa. In 1968, Harrison began to paint full time often visiting the landscapes of New Mexico for inspiration.