Tulsa Cityscape
by Adah M. Robinson
Watercolor
Dimensions: 20 x 24
2004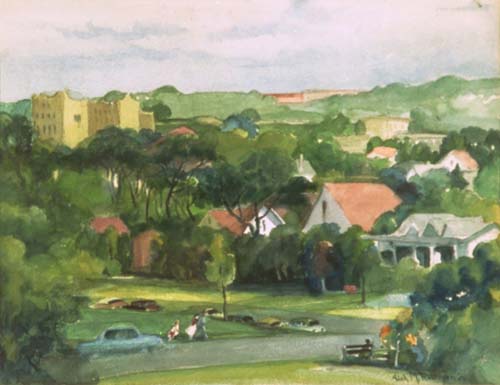 The Artwork
In this highly wooded scene, buildings and homes emerge from behind trees. In the foreground, cars are parked curbside as pedestrians make their way down the street. The artist seems to have painted this watercolor from a high vantage point where she was able to see not only the park before her but nearly to the edge of the city.


The Artist
Painter, printmaker, and teacher Adah Robinson was an institution in Tulsa art circles for three decades. Born July 13, 1882, in Richmond, Indiana, she studied at Earlham College and at the Chicago Art Institute with Charles Hawthorne, George Elmer Browne, and John Carlson. In 1905, her family moved to Oklahoma City, where she taught art privately, then briefly at Epworth University, and later in the public schools system. Circa 1916, she moved to Tulsa to teach her specialty at Central High School and then privately. She founded the University of Tulsa Department of Art in 1928 and thereafter served as its chair. There she was instrumental in founding Alpha Rho Tau art fraternity, and she helped establish the Tulsa Art Association.

During Robinson's career, in addition to painting and printmaking, she articulated the intellectual concepts that guided the overall design of Tulsa's Boston Avenue Methodist Church, now a National Historic Landmark, and she is widely credited with the elaborate decoration of the interior. She also redesigned the interiors of Tulsa's First and Second Churches of Christ, Scientist, when those buildings were renovated in 1935 and 1950, respectively. Starting in 1945, Robinson chaired the art department at Trinity University in San Antonio, Texas.

She belonged to the Oklahoma and Tulsa Art Associations, American Federation of Arts, College Art Association, Prairie Print Maker's Society, National League of American Pen Women, and Society of Friends (Quakers). Tulsa's Philbrook Museum of Art owns some of her works. The University of Tulsa awarded her an honorary doctor of arts degree in 1936. She retired from Trinity University and returned to Tulsa in 1959. Adah Robinson died in Tulsa on March 10, 1962.