Sunflowers and Daisies and Red Vase
by Kara Lee Merrell
Oil on linen
Dimensions: 20 x 16
Gift of the artist, 2004.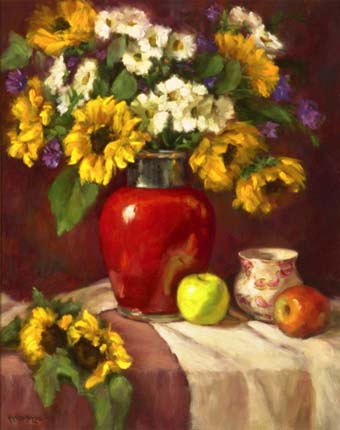 The Artwork
In this vibrant floral still life of sunflowers and daisies, Kara Lee Merrell used complimentary color relations. She realistically rendered the red vase with its highly reflective surface near the center of the composition to create emphasis. She then arranged green elements including leaves and an apple which amplify the radiance of the vase. She further explored complimentary color relations in the bouquet through the arrangement of the yellow and violet flowers.


The Artist
A native of Oklahoma, Kara Lee Merrell considers herself not only a painter in the realist tradition inspired by the Old Masters and American Impressionists but also a contemporary colorist. Though she is now well respected for her work in oils, she originally worked in textiles and originative furniture design. In
the 1990s she began to study classical realism beginning with the medium of charcoal.

She loves painting in "chiaroscuro", the style of Rembrandt, using the elements of light and shadows to catch the viewer's eye. As a contemporary colorist, she emphasizes the beautiful hues in each of her paintings. By placing herself in the position of a perpetual student she began to paint and incorporate Old World techniques into her process. Some of the instructors, Merrell credits most for her development as an artist are David Leffel, Sherrie McGraw, Gay Faulkenberry and Scott Burdick.

In just a few short years, Merrell participated in national art contests, won several awards in juried exhibitions, had her work included in several prestigious shows including the Gilcrease Museum Miniature Show from 2000 to 2006. In 2002, Merrell was the subject of a catalogue compiled by the Melton Reference Library.