Untitled (Mask)
by John Richardson
Pheasant feathers, paint, papier mache, leather
Dimensions: 13.5 x 9 x 9
Gift of Pamela Husky, 2004.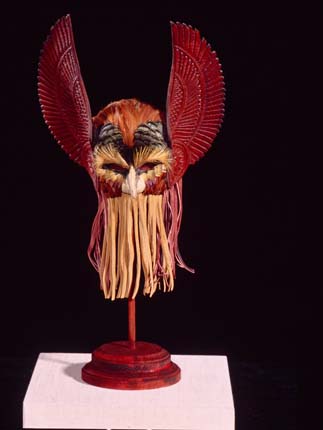 The Artwork
This mask was inspired by a vision and incorporates feathers, leather, papier mache, and paint. The mask is very detailed, and the artist trimmed and glued each individual feather into place. The leather wings were hand-tooled by the artist, and when possible, the artist used papier mache to make attachments. The mask is mounted on a wood stand allowing the viewer to enjoy the detail.
The Artist
Born in Blytheville, Arkansas, John Richardson moved to Oklahoma City in 1969. Though never formally trained, he pursued his interest in art since childhood. His passion for the arts included not only the production of his own work, but also assisting other artists in their pursuits. In the mid-1980s, Richardson, along with partner John McNeese, ran JPG Frame Shop on Classen Boulevard. The shop became a location for exhibitions as well as a hub for Oklahoma City artists to interact. By the end of the 1980s, Richardson was instrumental in the founding of the Oklahoma Visual Artists Coalition. It was around this same time that he was influenced by the work of Patrick Riley and began showing his own work regionally. In addition to his work as an artist and in the Oklahoma City arts community, Richardson has been an active fundraiser for the arts in Oklahoma statewide and has helped support Ponca City Arts Center for many years.