Rhythm in Flight
by Don Webster
Bronze (edition 10 of 12)
Dimensions: 27.5 x 11.75 x 9
Gift of the artist, 1986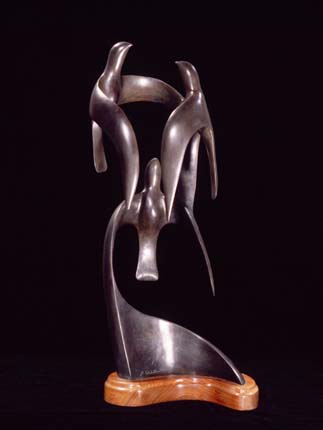 The Artwork
The influence of music upon Webster's sculptures is evident in this sculpture. Three stylized bird forms exist in smooth and graceful shapes combining to create visual rhythm and controlled movement. The artist uses a line and repetition to guide the viewer's eye from curving base to the smooth apex of the sculpture. This artwork also has a strong interplay between the positive space of the bronze forms and negative space within.
The Artist
Don Webster is a native of Oklahoma whose formal education has centered around music. This understanding of music, along with his interest in wildlife, has had a great influence on his work as a sculptor. After being a high school band director and school administrator, he turned his attention to sculpture. Like a musical composition, his artworks feature a flowing line, stylized smoothness, and concentration on motion.

Webster earned his music degrees from Oklahoma State University and the University of Oklahoma. He studied sculpture at the University of Tulsa. Webster has been a guest artist in the National Academy of Western Art exhibition at the National Cowboy and Western Heritage Museum. He has been commissioned to several artworks including the sculpture Freedom at the Ghost Ranch in Abiqui, New Mexico. He is a member of the Society of Animal Artists and the Oklahoma Sculpture Society. His work is represented by galleries across the U.S., and his sculptures are in public and private collections in the U.S., Canada, and Europe.