Sand and Sea
by Janey Crain
Ceramic painting on suede
Dimensions: 20 x 21
Purchased through a National Endowment for the Arts grant, 1979.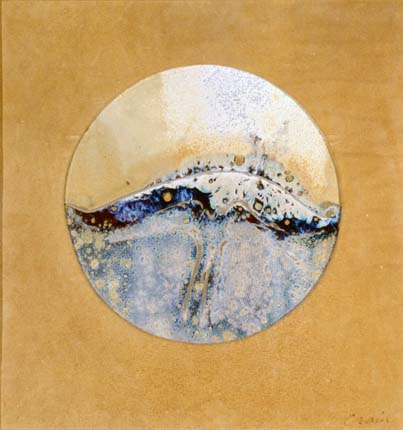 The Artwork
In Sand and Sea, the artists, Bob and Janey Crain, use several materials to represent actual objects with quite different characteristics. Stoneware with blue and white glaze depict waves cresting. With clay's ability to retain shape, it is usually thought of as a means to hold water than represent it. Yet, through the artists' handling of the media, the choice seems appropriate. The circular opening of the mat is also deceptively appropriate. The shape may remind the viewer of porthole which may be used to peer out at the surrounding waters. However, unlike the flat and transparent viewing area of a porthole, this circular shape presents one unchanging surface of texture and color. Even the soft suede mat may remind the view of coarse sand.




The Artist
Janey Crain studied ceramics, jewelry, and graphic arts at Central State University in Edmond, Oklahoma. She studied painting, sculpture, and art history at the University of Oklahoma. At the Kansas City Art Institute, she took drawing courses. At Oklahoma City University, she pursued watercolor and oil painting in addition to drawing. During this time, she also owned and operated a coffee house that served the community and organized art exhibitions for local artists and art students.

Crain spent her early career as a part time commercial artist, fashion illustrator, and an artist for Hallmark greeting cards. In 1969, she became a full time artist and art instructor. Crain's work as an arts instructor is extensive and inspiring. She served as an Artist-in-Residence for the Oklahoma Arts Council where she worked with urban and rural schools, taught as an adjunct professor at Oklahoma City University, taught male and female inmates at medium and maximum security prisons, and regularly promoted the arts in on local television and radio.

She has shown extensively and won numerous awards throughout Oklahoma, Nebraska, Arkansas, and Missouri. Her work is included in several public collections including the Fred Jones Jr. Museum of Art at the University of Oklahoma and the Little Rock Museum of Arkansas as well as prestigious private collections throughout the U.S.