Coming Home from the Trading Post
by Fred Beaver
Gouache on paper
Dimensions: 17 x 23
Purchased through a National Endowment for the Arts grant, 1979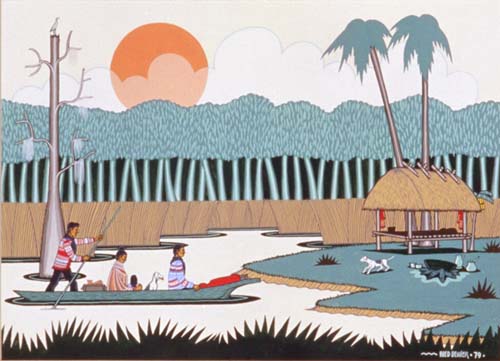 The Artwork
Though he was of Creek ancestry, Fred Beaver often depicted scenes for Seminole life. Painting in a traditional, flat style of painting that was popular at Bacone College during his years as a student, the artist illustrates a family returning home in their dugout canoe.

Beaver achieves unity throughout the artwork through the repetitive use of vertical lines and a limited palette of green, tan, black, and white. Though the subjects of this painting are represented in flat, graphic style, Beaver conveys depth through the the depiction of plant growth that overlaps the scene and perspective created by the water.

The Artist
Fred Beaver was born in 1911 in Eufaula, Oklahoma, to Annie Johnson and Willie Beaver. He was a descendent of Itshaus Micco, subchief of Okfuskee town in Alabama, who moved his people to present day Eufaula.

Beaver graduated from Eufaula High School in 1931 and attended Bacone College in Muskogee that same year. In 1935, he graduated from Haskell Indian Institute. He spent most of his adult life in Oklahoma, except for the time he spent in Italy while serving the U.S. Air Force during World War II where he received private instruction in art and voice.

Beaver began to experiment with painting in 1945. Although employed full-time with the Bureau of Indian Affairs where he served as an interpreter, he painted at night and entered many major Indian art competitions. In 1960, he retired from the Indian Field Service to devote full-time to his art. Though Beaver is of Creek descent, he is best known for his depictions of Seminole life. When asked why he painted Seminole culture, he said that he wanted to be different.

His artwork is found in the local permanent collections of the Five Civilized Tribes Museum, Muskogee, Gilcrease Museum, and Philbrook Museum of Art, Tulsa. His work can also be found in the Heard Museum in Phoenix, the Denver Art Museum, the Eiteljorg Museum of Indianapolis, and the National Museum of the American Indian, Washington, D.C.

His commissioned works include the Thunderbird Motel mural, Oklahoma City, and a mural for the Seminole Arts and Crafts Center, West Hollywood, Florida. The Oklahoma Republican Committee commissioned Beaver to create artwork to be gifted to President Eisenhower. The Franklin Mint commissioned three medallions for the Bicentennial Celebration in 1976.

Among his numerous awards and honors, he was designated a Master Artist in 1973 and three years later was named Outstanding Oklahoman of the Year. In 1979, he received the Outstanding Indian of the Year Award. He has been honored by the McIntosh County Historical Society and the Five Civilized Tribes Museum, which dedicated its third Master's Exhibition in his memory.