The Golden Mask
by Loraine Moore
Mixed media on board
Dimensions: 28.75 x 38.75
Purchased through a National Endowment for the Arts grant, 1975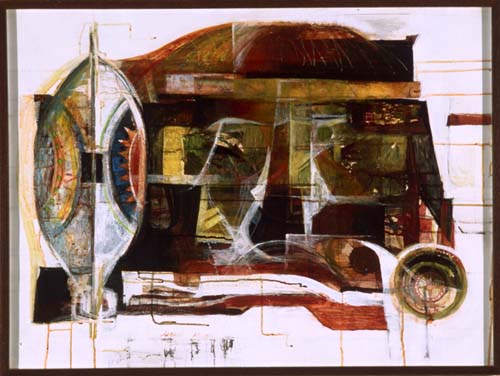 The Artwork
"The Golden Mask was painted after a recent trip to Africa. The blacks, browns, and golds are indicative of the strength and boldness of a land also laced with mystery and magic." -Loraine Moore

This mixed media work combines collage and painting to create the abstracted forms of a mask and scepter.

The Artist
Loraine Moore spent five years at Oklahoma Agricultural and Mechanical College (now Oklahoma State University) studying printmaking with Doel Reed. She also trained with famed painter and muralist Xavier Gonzales at the Portland Art Museum. In 1938, Moore was one of ten artists selected to represent Oklahoma at the World's Fair in New York City. In 1968, she was again represented in the World's Fair. Moore had an influential and lengthy artistic career that lasted more than 50 years in which she exhibited in national shows and won many awards. Her work is included in the permanent collections of the Philbrook Museum of Art, Dallas Museum of Art, San Francisco Museum of Art, National Academy of Design, Library of Congress, and many more. Moore was one of a small collective of Oklahoma artists that originated the Oklahoma City Art's Festival. She also created a poster for the festival in its early years. In the 1950s, she owned the only etching press in the state and loaned it to Oklahoma City University.