Untitled
by Reginald Coleman
Acrylic on canvas
Dimensions: 58 x 69 1/4
Purchased through a National Endowment for the Arts Grant, 1974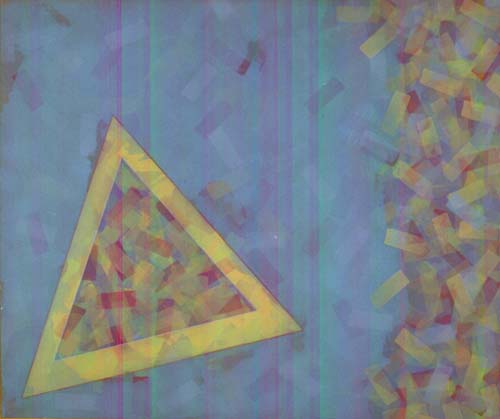 The Artwork
Untitled by Reginald Coleman illustrates the use of balance, emphasis, and unity in an abstract or non-objective artwork. By overlapping rectangles of repeated colors, the artist is able to achieve unity throughout the composition. The artist uses these same rectangles to achieve balance by stacking them to create a column along the right edge of the artwork and again in the center of the triangle on the left side of the canvas. Though the artist utilizes the same few colors repeatedly throughout the composition, he places the highest concentration of yellow in a band around the triangle. Upon the field of blue, the triangle becomes the focal point of the painting.


The Artist
Reginald Coleman studied at Cameron College under Jack Bryan. He later earned his Bachelor of Fine Arts and Master of Fine Arts at the University of Oklahoma. While attending the university, he studied with Eugene Bavinger and George Bogart. During his studies at OU, he had two one-person exhibitions at the Museum of Art of the University of Oklahoma, one was held when he was still an undergraduate student.

In 2006, he retired as professor emeritus after teaching drawing and design for thirty years at College of Lake County in Grayslake, Illinois. His work has been exhibited nationally from Minnesota to New York and Oklahoma to Ohio. His work is included in numerous collections including the Fred Jones Jr. Museum of Art at the University of Oklahoma, First Illinois Bank, and the Hollister Corporation.