Eareliquary
by Richard Bivins
Mixed media
Dimensions: 11.25 x 10.5 x 8
Purchased through National Endowment for the Arts Grant, 1974.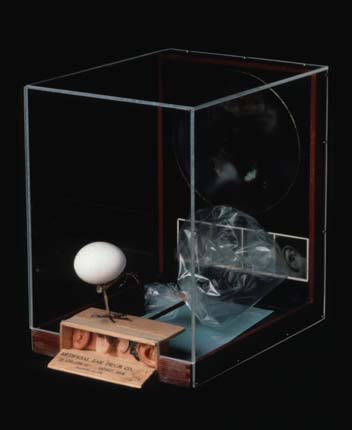 The Artwork
This mixed media work incorporates a vitrine which surrounds several objects including a clock an inflated plastic bag. Among the more intriguing objects in this work is an egg with bird legs. Representations of the human ear are featured in the foreground and background of this object.

In this work, the artist has combined two words which share the letter 'r,' ear and reliquary. The artist has created a visual representation of the resulting word, Eareliquary.'

A reliquary is a container for relics. Though reliquary are traditional religious in purpose, the term reliquary is occasionally used to refer to container which houses the organs or other body parts of a king or other dignitary. In the case of this sculpture, the artist is seeming to pay homage to the surrealist artists who have come before him, as he has made a shrine to mechanics of the ear. In doing so, the elements in the sculpture seem to symbolically represent parts of the ear. Examples of these, are the clock ,whose tiny mechanical are reminiscent of the three tiny bones of the ear, and the plastic bag which whose membrane can be compared to that of the eardrum.


The Artist
Richard Bivins earned his Bachelor of Fine Arts from Oklahoma University in 1961 and in 1965, his Master of Fine Arts from the University of Oklahoma where in 1964 he studied at the Academia de Bella Art, Rome. From 1964 to 1997, Bivins taught for the department of art at Oklahoma State University (OSU). In the summer of 1976, his studies brought him to the University of Southern California. That same year while on sabbatical, he studied Native American pottery in California, New Mexico, and Mexico. From 1980 until 1990, Bivins served as the Head of the department of art for Oklahoma State University. In addition to his educational career at OSU, Bivins taught at the University of Oklahoma and Southeastern State College in Durant, Oklahoma. He also served as the Director of the Medical Heritage Gallery in Waco, Texas. Bivins' work can be found in many public collections including the University of Oklahoma, the Oklahoma State's Humanities Collection, the Arkansas Art Center, People's Republic of China at Taijin University in China, and First National Bank, Tupelo, Mississsipi. His work has been seen in solo, group, juried and invitational shows from California to New Jersey.