Oklahoma Landscape
by B.J. (Billy Joe) Smith
Acrylic on wood panel
Dimensions: 18 x 23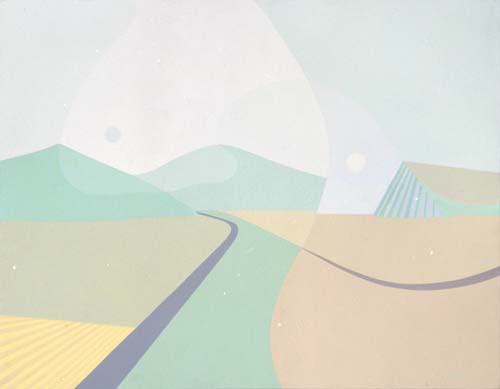 The Artwork
With abstract planes of pastel and muted hues, B.J. Smith's Oklahoma Landscape offers a sleek view of Oklahoma's hills and mesas. Using the perspective of highway travel, the artist represents both field and pasture with simplified areas of flat color, curving lines, and striped plane.


The Artist
Billy Joe (B.J.) Smith graduated with a Bachelor of Fine Arts from Oklahoma State University in 1955 before attending the University of Oklahoma, where he earned his Master of Fine Arts in 1959. Smith then continued his education at the University of California Berkley. From 1961 to 1965, Smith served as the assistant to the director at the Oklahoma Art Center and served as the gallery director for the Contemporary Arts Foundation from 1964 to 1965. In 1965, Smith became the gallery director for the Gardner Art Gallery at Oklahoma State University where he also also served as an instructor. In 1968, he became an assistant professor at Oklahoma State University where he would become associate professor in 1980. Smith retired from the art department of Oklahoma State University in 1994 after serving as the gallery director and an instructor for 29 years.

As a painter, Smith was included in many juried and group exhibitions across Oklahoma, Kansas, Arkansas, Nebraska, and Missouri. His work is included in several prestigious permanent collections including the Fred Jones Jr. Museum of Art at the University of Oklahoma, Oklahoma City Museum of Art, and the Joslyn Art Museum in Omaha, Nebraska.