Vista Two
by George Bogart
Acrylic on canvas
Dimensions: 47.5 x 59.5
Purchased through a National Endowment for the Arts grant, 1974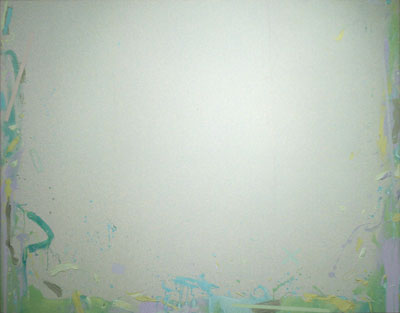 The Artwork
With Vista Two and in the style of color field painting, George Bogart has made the color the subject matter. Not tied to using paint to create a representative image, the artist applied splattered blue and lavender paint across the entirety of the canvas surface. The artist has created visual rhythm around the edges of the canvas through long bushstrokes of blue, green, yellow, and beige.



The Artist
George A. Bogart received his Bachelor of Fine Arts from the University of Minnesota at Duluth in 1956 and his Master of Fine Arts from the University of Washington in 1959. He taught at the University of Texas in Austin for eight years, and then at Penn State University for three years. In 1970, he came to the University of Oklahoma as a full professor. In 1978, he had a year-long appointment as visiting guest artist at the University of California in Berkeley. Upon returning to OU, Bogart continued to teach until his retirement in 1997. He would later return to the University of Oklahoma to teach to classes as an Emeritus Professor.

Bogart was a prodigious painter who was renowned for his use of color and space. Bogart once remarked, "For me painting is about paint and color and these are the tools that I use to make observations about who I am, what I am, and where I am."

His work was exhibited all over the United States throughout his career and is included in numerous private and public collections including the Isaac Delgado Museum (New Orleans, Louisiana), Illinois State University Museum (Normal, Illinois), The Spencer Museum at the University of Kansas (Lawrence, Kansas), and the Fred Jones, Jr. Museum of Art at the University of Oklahoma.