Ghost of Metacom
by Yeffe Kimball
Acrylic on canvas
Dimensions: 48 x 48
Purchased through a National Endowment for the Arts grant, 1973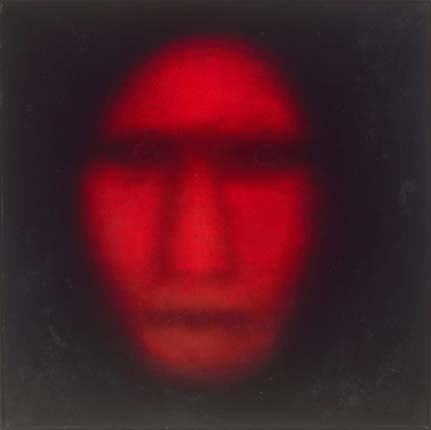 The Artwork
In the late 1950s, Yeffe Kimball began using the new medium of acrylic paint. It was at this time that she moved from a primarily primitive style of painting to focus upon stains and surface textures moving her style toward pure abstraction. In her 1971 work Ghost of Metacom, the artist combines primitively painting face with a surface that is both textured and lustrous. As the red face emerges from the black background, the reflection of light on the surface of the painting reveals two circular shapes within the varnish. These shapes give the illusion of eyes peering out from the painted surface.

Ghost of Metacom may refer to the 17th century intertribal leader of the Wampanoag, Narraganset, and other indigenous people of what is now referred to as New England. He was also known as Metamet, King Philip, and Philip of Pokanoket.


The Artist
Born in Mountain Park, Oklahoma, in 1914, Effie Y. Goodman subsequently spent her early years on her grandfather's farm in Missouri. She attended college in Ada and the University of Oklahoma in Norman from 1931-1935. After college, she went to New York where she worked under distinguished artists such as George Bridgman and John Corbin at The Art Students League in New York in the early 1940s.

She adopted the name Yeffe Kimball, adapting her first husband's surname of Campbell to form Kimball, and never returned to her small-town roots. She became a world traveler and student, studying intermittently with Fernand Léger in Paris from 1940-1941. In 1948, she married Harvey L. Stalin, an atomic scientist. Her art was influenced by Stalin's work and she entered a new era, focusing on burning planets, atmospheric gases, and flashing comets. Her work was also inspired by American Indian spiritual symbols that are evident in this painting in which the apparition of a face appears to pierce through from a supernatural realm. In 1946, she had her first solo show at the Rehn Gallery in New York. By 1987, she had had more than 55 solo exhibitions.

Since her death, however, her Osage heritage has been disputed. In Bill Anthes' 2006 book "Native Moderns: American Indian Painting, 1940-1960," he writes, "Yeffe Kimball constructed a mixed white/Indian identity for herself. Her personae and her paintings were observed by critics to be the perfect hybrid of primitive/Indian and modern/Western." Anthes also uses Kimball's biography to spectulate on the permeable boundries for defining "Indianness" in the postwar period, since she passed as an Indian for forty years. Although her cultural identity may be uncertain, her talent and contribution as an artist are indisputable.