Bedroom on Telegraph Ave.
by Marty C. Avrett
Oil on canvas
Dimensions: 50 x 57
Purchased through a National Endowment for the Arts grant, 1973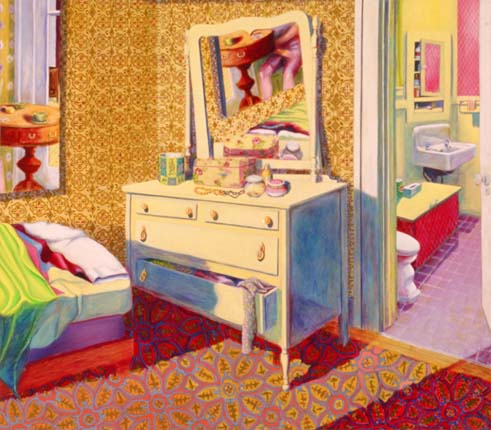 The Artwork
A dresser rests in the center of this composition, and from the mirror upon the dresser, the artist uses both pattern and perspective to guide the viewer's eye through the painting. The reflected image of the painting on the bedroom wall directs the viewer's attention back to the unmade bed. Resting on the bed is a green sheet which seems especially bright due to the amount of red in the patterned floor and wall. This green is repeated in the bathroom which appears through the door on the right. In this room, the artist switches the use of complementary colors. Green becomes the predominant color of the room, and red is used to add interest. The artist also uses the muted complementary colors of yellow and violet. To heighten perspective, the artist implies a strong light source to the left of the painting creating dramatic shadows.


The Artist
Marty C. Avrett received his Bachelor of Fine Arts in 1966 and his Master of Fine Arts in 1968 from the San Francisco Art Institute where he studied under internationally respected artist Richard Diebenkorn. Avrett accepted a position to teach painting and drawing at Oklahoma State University in 1969. From 1973-1974, he served as Artist-in-Residence at the University of Lancaster in England. In 1978, Avrett returned to Lancaster to paint for another four months. From 1987-1988, he worked on this art in San Miguel de Allende, Guanajuanto, Mexico. Avrett has exhibited widely in the United States, England, Germany, Switzerland, and Mexico. His work is in museum collections in the U.S. and England as well in numerous private collections.