Girl's Head (Moon Girl)
by Alexandra Alaupovic
Bronze
Dimensions: 11.75 x 7.5 x 8
Purchased through a National Endowment for the Arts grant, 1973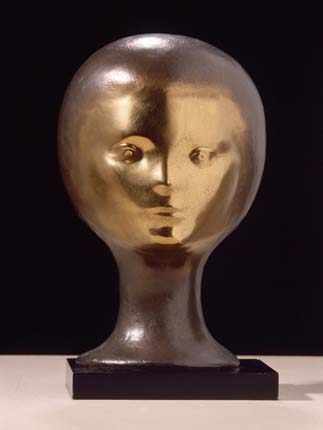 The Artwork
This work was originally sculpted in 1964 at a time when the United States and the Soviet Union were in the midst of a race to place the first human on the moon. With sleek, stylized features, the work is a modern representation of classic beauty created at time of many technological advances. This sculpture is also romantic and whimsical. In 1995, the artist explained that this work was influence from a time in her childhood, "when my father was showing me a profile of a girl's face on the full moon, in hopes somebody in the future shall step on the moon and meet her."

This artist's proof of the sculpture was cast in 1973, after men had walked on the moon and the Apollo program had ended.
The Artist
Born in the former Yugoslavia in 1921, Alexandra Alaupovic's early interest in art was encouraged by her father, an amateur sculptor and painter, and by her mother, an accomplished watercolorist. Alaupovic began her formal training with sculptor Frano Krsinic in 1944 at the Academy of Visual Arts in Zagreb, Yugoslavia. After moving to Czechoslovakia with her husband, Alaupovic studied at the Academy of Visual Arts in Prague. In the late 1950s, the couple moved to the United States where Alaupovic studied photography and commercial art at the University of Illinois Art School. She graduated with a Master of Fine Arts from the University of Oklahoma in 1966. During her studies, she won the Oscar Jacobson Award for her sculpture Moon Girl in 1964.

A recast version of the 1964 sculpture was acquired into the Collection in 1973. Inspired by space exploration, the artist recalls that as a child, "my father was showing me a profile of a girl's face on the full moon, in the hope that somebody in the future shall step on the moon and meet her."

Since that time, Alaupovic lived and worked in Oklahoma City, exhibiting on a local, national, and international level. Her work is in many public and private collections. Though recognized for the variety of materials and techniques used in her sculpture, Alaupovic is best known for her bronzes, which range from realistic portrait heads to abstract figural works. Because Yugoslav art of the late 1940s and 50s was limited to state-sanctioned 'social realism' and participation in developments associated with mainstream Western art was discouraged, Alaupovic's artistic development accelerated after her arrival to the United States. Her rigorous classical training coupled with a thorough knowledge and appreciation of modernist sculpture made her a tireless experimenter who was at ease with techniques as varied as bronze casting, welding, and sheet-metal fabrication.