Abandoned
by John Randolph
Acrylic on canvas
Dimensions: 45.375 x 64
Purchased through a National Endowment for the Arts grant, 1973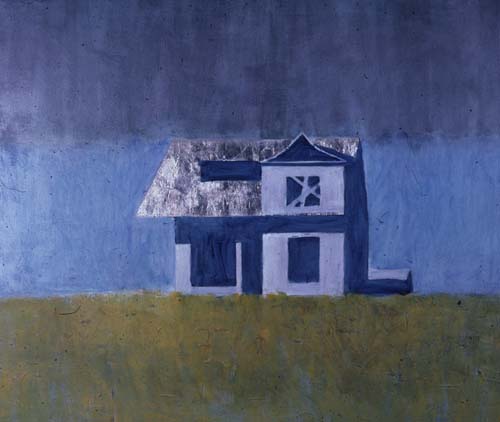 The Artwork
In this stylized landscape titled Abandoned, a house rests above a flied of yellow. Behind the house is are two bands of blue. The flat representation of the house with its solid shadows and gold leaf roof seems to depict a memory of a house more than a specific house. The elements of this composition combine to create a visual experience of expression more than representation.

Speaking of this painting, the artist states, "The painting is an attempt to reflect the quiet, dignified, lonesome waiting that [is] so often a condition of old age."
The Artist
Born in Ada, Oklahoma, John Randolph earned his Bachelor of Fine Arts and Master of Fine Arts from the University of Oklahoma. He also studied at Shrivenham Army College in England and the University of Oregon. Upon graduation in 1948, Randolph joined the art department of Phillips University where served as a professor and Chairperson of the department, serving the university for more than four decades.

Randolph has exhibited his work across the region. His work was included in one-person and group exhibitions at such places as the Philbrook Art Museum, Wichita Art Museum, Springfield Art Museum, Dallas Museum of Art, and the Chicago Museum of Fine Art.

In 1986, Phillips University hosted a retrospective of his work. That same year as part of the Governor's Arts Awards, Randolph received the Community Service Award, recognizing his work for Enid businesses and commissions. At Phillips University, he received the Dean J. Clifford Shirley Outstanding Faculty Award.