Six Modules No. 3
by Duayne Hatchett
Brass
Dimensions: 7.5 x 16.25 x 15.5
Purchased through a National Endowment for the Arts grant, 1973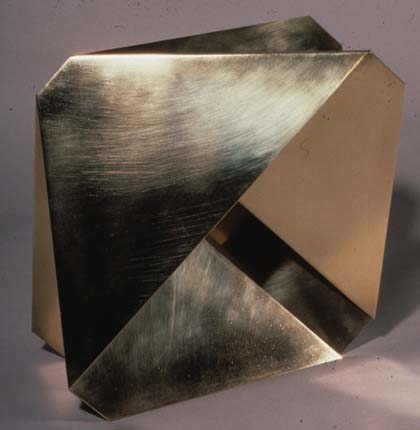 The Artwork
Six Modules No. 3 illustrates the inclusion of mathematics and reason through the sculpted form. The
brass sculpture holds the form in a static pose in which the walls of a cube seem to be opening, or possibly closing, back into itself. Through line and symmetry, the artist guides the viewer into a rational questioning of space and volume.
The Artist
Born in Shawnee, Oklahoma, Duayne Hatchett was raised by his grandmother during the Depression and Dust Bowl. His experiences during this time would greatly inform his development as an artist. Hatchett became the youngest artist to be sponsored by the Works Project Administration, but his art career was postponed by his World War II when he was drafted and trained as a fighter pilot. During his time in the service, he was stationed in Paris. He took every opportunity to tour the Louvre. Following the war through the support of the G.I. Bill, Hatchett returned home to study at the University of Oklahoma with famed printmaker Emilio Amero. The resourcefulness of the Oklahoma spirit during the trying times of the Depression and Dust Bowl may have led to Hatchett incorporating found objects into his artworks in the 1950s, often creating work that was rough in texture. By the 1960s, Hatchett was creating sculptures that were sleek and minimalist. In 1954, he accepted an invitation from Alexandre Hogue to teach at the University of Tulsa where he would remain for ten years. There he continued his work as artist and gained the attention of many architects. It was also during this time that he began to travel regularly as lecturer and met many notable artists.

In 1968 Hatchet became head of the Sculpture Department at the University of Buffalo where he taught for nearly thirty years. His work has been represented in many group exhibitions including in the Whitney Museum of New York, Walker Art Center in Minneapolis, Carnegie Museum of Art in Pittsburgh, Los Angeles County Museum, and the Middelheim Museum of Antwerp, Belgium. His work has been featured in many solo exhibitions at galleries and universities including the University of Tulsa and Otterbein College in Westerville, Ohio. His work is held in several prominent collections including the Lynden Sculpture of Milwaukee, Wisconsin, and the Smithsonian American Art Museum.