Violent Times
by Eugene Jesse Brown
Oil on canvas
Dimensions: 24 x 20
Purchased through a National Endowment for the Arts grant, 1972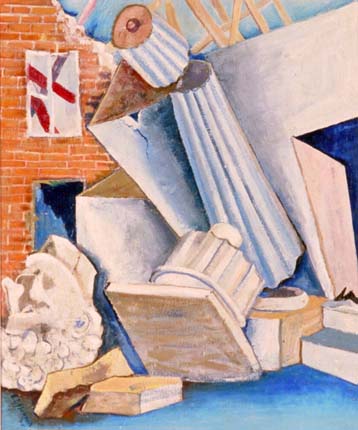 The Artwork
Violent Times depicts a tumbling, broken column with the head of a noble statue lying on the ground. Further destruction is shown in the background with falling architectural structures and crumbling brick walls. The idea of movement, or that the structures are in the act of falling, is introduced by use of diagonal lines throughout the composition.


The Artist
Eugene Jesse Brown was born in 1895 in Pine Bluff, Arkansas. He started his studies at the University of Kansas and continued his training at the Carnegie Institute of Technology, the University of Indiana, and eventually relocated to Guthrie, Oklahoma, to attend Catholic College. He received his Master of Fine Arts from the University of Oklahoma. His compositions were colorful and striking. His paintings were known for scenes which incorporated landscapes and buildings.

Brown started developing the Langston Art Department in 1924 and by 1930, Langston University had established a four-year art degree program. From 1929 through 1961, Brown served as a Professor and as Chairman for Langston's art department. He became known as Father Brown, and in 1964, Brown Hall at Langston University was named in his honor.

Brown was a charter member of the Oklahoma Artists Association and the Western Arts Association. His work has been exhibited at Atlanta University, Oklahoma Art Center, Dillard University in New Orleans, Louisiana, and the Philbrook Museum of Art. His work belongs in the permanent collections of the Fred Jones Jr. Museum of Art at the University of Oklahoma and Langston University.