Quartet
by Sam Olkinetzky
Polymer, oil, slate
Dimensions: 23.5 x 29.125
Purchased through a National Endowment for the Arts grant, 1972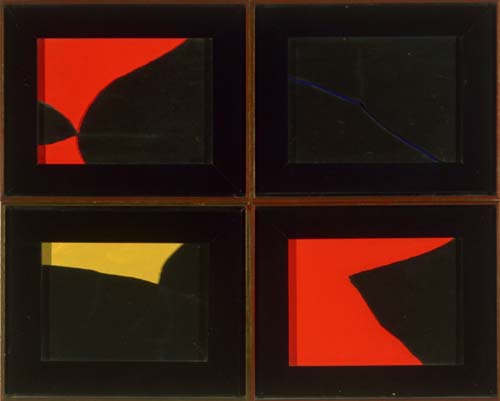 The Artwork
Four individually framed and painted compositions on black slate have been joined to form one larger work. The black slate surface has provides subtle variances in dimension. In three of the quadrants, the artist has used vivid yellow or red paint to accent this relief in the work's surface.
The Artist
Born in New York City, Sam Olkinetzky graduated from Brooklyn College in 1942 then served in the Army Air Corps until 1945 where he was stationed in England and participated in the bombing raids of Nazi Germany during World War II. Following his service, he completed his doctoral studies at the Institute of Fine Arts with the Metropolitan Museum of Art and New York University. Olkinetzky then came to Oklahoma Agricultural and Mechanical College (now Oklahoma State University) where he taught art history for ten years. In 1957, Olkinetzky became a member of the University of Oklahoma faculty where he served as the director of the Museum of Art at the University of Oklahoma, now the Fred Jones Jr. Museum of Art, until his retirement in 1983.

Olkinetzky was a respected art historian, a senior examiner for the Accreditation Commission of the American Association of Museums, as well as an art appraiser serving the many municipal and private collections, including the Oklahoma State Art Collection. As an artist, his work was exhibited in many galleries and museums including the Museum of Modern Art and the Guggenheim in New York City. In 1981, Sam Olkinetzky was awarded the Oklahoma Governor's Arts Award.