Looking Into N.M.
by Linley Tonkin
Oil on canvas
Dimensions: 35 x 29
Purchased through a National Endowment for the Arts grant, 1971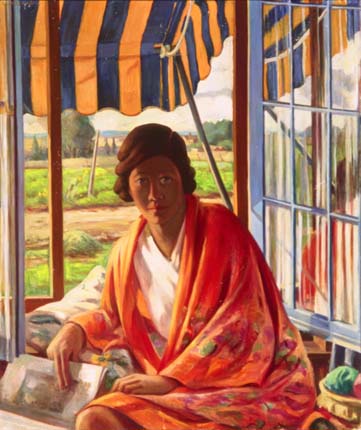 The Artwork
Looking Into N.M. provides a casual look into a sunroom as a young woman momentarily takes a break from her reading. Surrounding the woman are comforting items such as blankets and knitting supplies. The sun's rays cast upon the woman's face and garments and are seen subtly reflected on the window behind her. It appears the young woman is taking time to enjoy the pleasant weather.

In this painting, the artist has paired complementary colors to encourage the viewer to focus on the figure. Directly above the seated woman bands of blue and orange are backlit by the sun's rays. The green of the landscape emphasize the reds of the woman's garments.

The Artist
Painter, etcher, and lithographer Linley Munson Tonkin was born on August 12, 1877, in Sherman, Texas. From 1895-1898, she studied with Irving Wiles, John Carlson, and Clifford Carleton at the Art Students League in New York City. From her 1903 marriage to Stanley J. Tonkin, a mining engineer for the Missouri-Kansas-Texas Railroad, until around 1920, Tonkin left her art to raising her three children in McAlester.

The blend of Anglo, Hispanic, and Native American cultures drew artist Linley Tonkin to New Mexico, which inspired the painting Looking into N.M. Her figurative style recalls the land of enchantment of New Mexico just to the west of Oklahoma, which became a popular vacation destination in the region for artists that were unable to travel internationally during the early part of the twentieth century.