Bowling Ball
by Edward Ruscha
Gunpowder, pastel on paper
Dimensions: 23 x 29
Purchased through a National Endowment for the Arts grant, 1971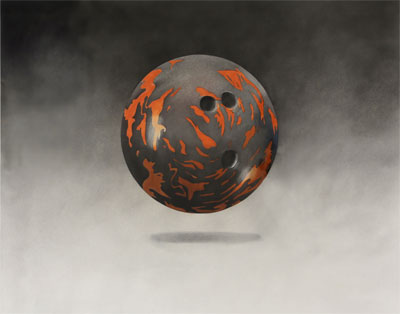 The Artwork
In this work on paper, a realistically rendered bowling ball floats surrealistically in space. Internationally acclaimed contemporary artist Ed Ruscha used both pastel and gunpowder to create this artwork. Due to the media, Ruscha chose to execute this work and the fact that sphere itself seems to be floating in space, this artwork may bring to mind thoughts of a cannonball or an explosion of creativity.


The Artist
As a pioneering figure of Pop Art who first gained wide critical notices in the 1960s, Edward "Ed" Ruscha's place in history is alongside such contemporaries as Andy Warhol, Roy Lichtenstein, and Wayne Thiebaud. But unlike those late artists, Ruscha is still going strong.

Born in 1937 in Omaha, Nebraska, Edward Ruscha was raised in Oklahoma City where his family moved in 1941. He graduated from Northwest Classen High School in 1956 and immediately moved to Los Angeles to attend the Chouinard Art Institute, and had his first solo exhibition in 1963 at the Ferus Gallery.

In 1962, Ruscha's work was included, along with Roy Lichtenstein, Andy Warhol, Robert Dowd, Phillip Hefferton, Joe Goode, Jim Dine, and Wayne Thiebaud, in the historically important and ground-breaking "New Painting of Common Objects," curated by Walter Hopps at the Pasadena Art Museum. This exhibition is historically considered one of the first Pop Art exhibitions in America.

Ruscha has consistently combined the cityscape of his adopted hometown with vernacular language to communicate a particular urban experience. Encompassing painting, drawing, photography, and artist's books, Ruscha's work holds the mirror up to the banality of urban life and gives order to the barrage of mass media-fed images and information that confronts us daily. Ruscha's early career as a graphic artist continues to strongly influence his aesthetic and thematic approach.

Ruscha has been the subject of numerous museum retrospectives that have traveled internationally, including those organized by the San Francisco Museum of Modern Art in 1982, Centre Georges Pompidou in 1989, Hirshhorn Museum and Sculpture Garden in 2000, Museo Nacional Centro de Arte Reina Sofia in 2002, and the Museum of Contemporary Art in Sydney in 2004. Also in 2004, The Whitney Museum of American Art organized two simultaneous exhibitions: "Cotton Puffs, Q-tips®, Smoke and Mirrors: The Drawings of Ed Ruscha," which traveled to the Museum of Contemporary Art, Los Angeles, and the National Gallery of Art, Washington, D.C., and "Ed Ruscha and Photography." In 2005, Ruscha was the United States representative at the 51st Venice Biennale. The traveling exhibition "Ed Ruscha, Photographer" opened at the Jeu de Paume in Paris in 2006.

In 2001, Ruscha was elected to The American Academy of Arts and Letters as a member of the department of art. Leave Any Information at the Signal, a volume of his writings and interviews, was published by MIT Press in 2002, and the first comprehensive monograph on the artist, Richard Marshall's Ed Ruscha, was published by Phaidon in 2003. A major retrospective of his work was held at the Hayward Gallery, London in 2009.