Plane Line
by Bob Privitt
Stainless steel, nylon cord, brass
Dimensions: 31.5 x 48 x 17
Purchased through a National Endowment for the Arts grant, 1972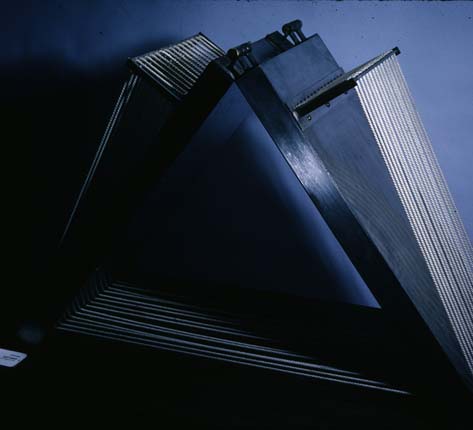 The Artwork
With Plane Line, Bob Privitt has created a sculpture in which a triangular stainless steel form with brass hinges seems to maintain its shape through tension generated by the containment of white nylon cord. The work is mechanical in appearance and reminiscent of a loom in structure.
The Artist
Born in Clarksville, Arkansas, Bob Privitt earned his Bachelor of Arts at Harding College in Searcy, Arkansas. He later earned his Master of Arts from the University of Tulsa in 1964. In 1971, Privitt received his Master of Fine Arts from Indiana University. Beginning in 1979, Privitt served as a professor of Fine Art at Pepperdine University. He held this position until 2002, when he took on the role of artist in resident for the university. From 1981 to 1991, he directed the Pepperdine University Art Gallery. In 2004, Privitt retired from the university after 25 years.

Privitt's artworks have been selected for inclusion in more than 100 national exhibitions and have received many awards. His drawings and sculptures are included in many public collections including the University of Tulsa, Indiana University, University of Arkansas at Little Little Rock, Lubbock Art Center, and Del Mar College of Corpus Christi, Texas.