The Creeper
by Wallace Owens, Jr.
Mixed media collage on panel
Dimensions: 48" x 24"
Pruchased through a National Endowment for the Arts grant, 1972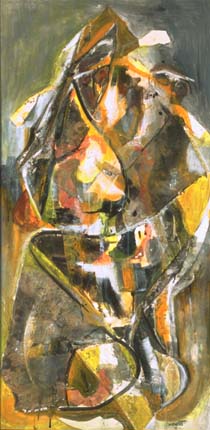 The Artwork
With abstracted forms of yellow, orange, and green, this mixed media painting displays characteristics of abstract expressionism yet alludes to representation. As the title implies, The Creeper offers a veiled look amidst the layered forms of figure peering back.
The Artist
Wallace Owens, Jr. had his first formal art training at Langston University, which would lead to a rich life in arts and art education. Following this education, Wallace served the United States Army from 1953 to 1955. Wallace then began teaching in Greenville, South Carolina where one of his students was Jesse Jackson. After two years, Owens left South Carolina for California where he studied electronics at night and found employment with Lockhead where worked on rockets and the Gemini capsule. He then returned to Oklahoma and earned his Master of Education from Central State University (now the University of Central Oklahoma). Owens continued his education at the Instituto Allende in San Miguel de Allende in Guanajuato, Mexico, where he earned his Master of Fine Arts in 1966. That same year, he began teaching art at Langston University. During this time he continued his studies at the American Center for Artists in Paris in 1969, at the University of Rome in 1970 as a Fulbright scholar, and then began doctoral studies at North Texas University. In 1974, Wallace participated in study tour of West Africa through Howard University. In 1980, Wallace joined the art department of Central State University (now the University of Central Oklahoma). Owens continued his own education during this time, studying art history at the University of Oklahoma, and participating in a Mid-East Study Tour with Central State University. In 1988, Owens retired as an art professor. Wanting to give back to his community, he founded Owens Art Place Museum in Guthrie to exhibit art and encourage cultural and educational experiences.

In addition to celebrated career in art education, Wallace Owens has had a prolific career as an artist. In 1996, Owens was commissioned to create a twenty-two foot metal sculpture for the centennial celebration of Langston University. His work has been included in group and one-person exhibitions at the Oklahoma University Art Museum (now the Fred Jones Jr. Museum of Art), Kirkpatrick Galleries at Omniplex (now Science Museum Oklahoma), and the Melvin B. Tolson Black Heritage Center at Langston University.