The Great Plains
by Lee Mullican
Oil on canvas
Dimensions: 75 x 75
Purchased through a National Endowment for the Arts grant, 1972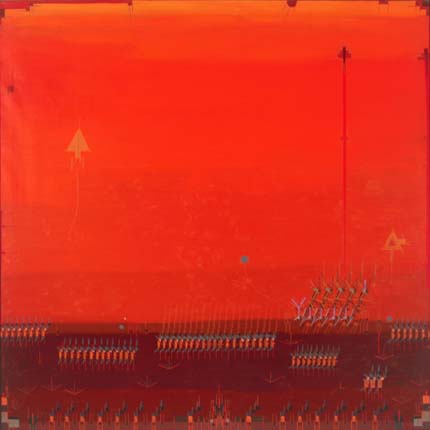 The Artwork
Lee Mullican explored the subconscious mind, mysticism, automatism, and the influences of ancient cultures. In The Great Plains, he used repeated, simple geometric shapes to form figures across the lower portion of the canvas. Throughout the expansive field of red, he sparsely placed tribal symbols. The artwork implies a narrative, yet he arranged the work in manner that provides the viewer the freedom to imagine a story of their own creation.

The Artist
Painter and educator Lee Mullican was born in 1919 in Chickasha, Oklahoma. For over fifty years, Mullican explored the subconscious mind, mysticism, automatism, and the influences of ancient cultures.

At the age of 15, Mullican was introduced to art by his mother Zula Jolley Mullican. Satisfying his father's wishes, Mullican initially attended Abilene Christian College for two years before transferring to the University of Oklahoma where he established his first off-campus studio. He also studied briefly at the Kansas City Art Institute.

After being drafted into the U.S. Army Corps of Engineers in 1941, he attended topographic school in Ft. Belvoir, Virginia, before being stationed in Hawaii and eventually Japan. With an abundance of available drawing supplies and access to internationally renowned museums, Mullican used his considerable spare time during the war to foster his artistic development.

Mullican was invited to San Francisco in 1946 by Jack Stauffacher, a painter whom he had befriended during the war. He devoted most of his time to drawing and painting. Mullican's work was discovered by the former British Surrealist Gordon Onslow Ford when it was displayed in Stauffacher's printing studio. Ford immediately took Mullican under his wing, introducing him to the members of the San Francisco art community, including Wolfgang Paalen and his wife Luchita Hurtado.

Mullican, Paalen, and Ford quickly formed a collaborative artistic circle, culminating in the exhibition "Dynaton" in 1951. While basing his career primarily in Santa Monica, he spent three years in Sao Paulo, Brazil, in an artist exchange program from 1955-1958. In 1959, he received a Guggenheim Fellowship and spent the next two years in a studio in Rome.

Although a native Oklahoman, Mullican lived in Los Angeles for much of his life, and lived through many major movements of contemporary art, including conceptual art, pop art, and abstraction, which he incorporated into many of his works. Lingering in these diverse styles is the influence of Oklahoma and the Southwest, in the subtle Native American influences in Mullican's paintings. This large oil painting titled The Great Plains suggests Navajo and Southwest textiles and represents his apparent conflict between abstraction and figuration and his absorption of Western and non-Western sources.

While his signature media was drawing, Mullican's work also consisted of paintings, which were typically produced with the aid of a palette knife. A wide range of experiences including cultural, philosophical, and artistic influenced his style. Until his death in 1998, Mullican worked primarily in the Los Angeles area, exhibiting his work while holding a teaching position at UCLA.