Interstate 55, Springfield
by Daniel Lang
Acrylic on canvas
Dimensions: 44.25 x 72.25
Purchased through a National Endowment for the Arts grant, 1972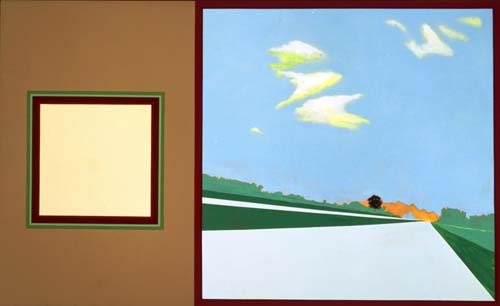 The Artwork
This painting is named after the interstate highway that passes through Illinois' capital. In this painting, Daniel Lang divided the canvas into two distinct areas. On the left, he painted a square with three concentric borders of various widths centered on a color field of brown. On the right, he painted a stylized one point perspective of a highway. Both sides are painted with large areas of flat colors. With this compartmentalized way of painting, the artist seems to be drawing attention to the way in which we see our world.
The Artist
Daniel Lang was born in Tulsa, Oklahoma in 1935. Though he first attended Northwestern University, Lang earned his Bachelor of Arts degree from the University of Tulsa. Lang earned his Master of Fine Arts degree from University of Iowa, and his postgraduate studies included four Yaddo Fellowships and two MacDowell Colony Fellowships. In 1975, Lang visited and painted landscapes of Antarctica as part of a National Science Foundation program.

Lang is best known for his paintings of invented landscapes based on sketches and snapshots from his global travels. He has had many solo exhibitions at prestigious locations including the Boston Museum of Fine Arts, The University of Chicago, and Arthur Tooth and Sons in London which invited him to come to England and paint his interpretations of the English landscape. Lang's work is included in international public collections such as the Victoria and Albert Museum in London and the Hunterian Art Gallery of the University of Glasgow in Scotland. Lang has had one-person shows at art galleries in Belgium, England, Italy, Scotland, and West Germany, and various cities across the U.S. including New York. His work has been exhibited from coast to coast including prestigious museums such as The Museum of Modern Art in New York to the California Palace of the Legion of Honor in San Francisco. His work is also included in many prestigious private collections including Governor Nelson A. Rockefeller, Morton Neamann, and Ivan Karp.

After 1978, Lang spent six months of each year in New York City and the other half of the year in the small medieval village of Montone in Umbria, Italy. He also served as Adjunct Professor at the University of Utah, Salt Lake City.

In 1986, Galleria BelloSguardo, Cagli, Italy, and Sherry French Gallery, New York, co-published the book entitled DANIEL LANG: Trees/Water/Silence, A Selection of Paintings from 1975 through 1986.