Acrylic on paper
Dimensions: 16 x 15
Purchased through a National Endowment for the Arts grant, 1972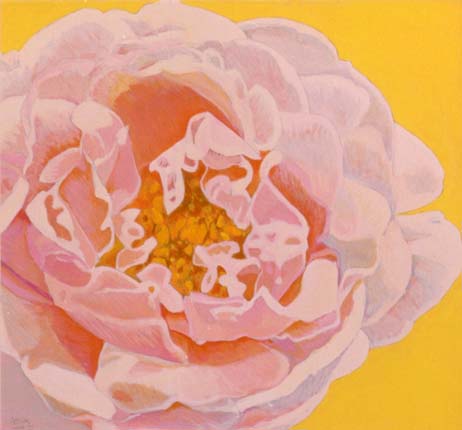 The Artwork
Areas of red-orange, pink, and white provide emphasis of this naturalistic depiction of a rose. Around the circumference of the flower, overlapping petals cast shadows of pink and gray upon each other. This repetition contrasts greatly with the flatly painted bright yellow background.


The Artist
Born in Arkansas City, Kansas, John Arthur received his Bachelor of Arts in 1963 and Master of Arts in 1964 from the University of Tulsa where he studied with Alexandre Hogue. While attending the University of Tulsa, he served as a student assistant in the art department. He also taught classes at the Philbrook Art Center and the Muskogee Art Guild. He exhibited throughout the state and in the Six State show in Springfield, Missouri.

In addition to his work as an artist, Arthur is well established as an independent curator and writer. Since 1975, he has advised private collectors, galleries, and museums in the U.S., Europe, and Japan. Through his writings and work as a curator, Arthur has been acknowledged internationally as a leading authority on contemporary American realism and figure painting.