For the Longest Time
by Charles Pebworth
Stainless steel, copper, brass
Dimensions: 37 dia.
Purchased through a National Endowment for the Arts grant, 1973
Currently on exhibit in the Betty Price Gallery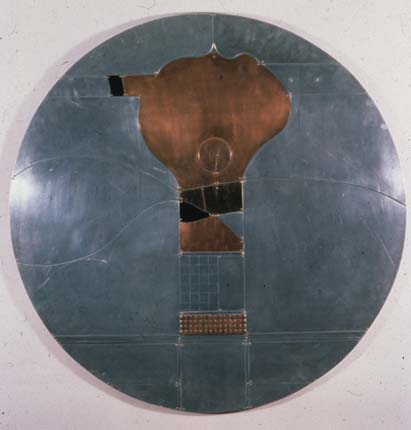 The Artwork
Circular in shape, this metal relief is comprised of sheets of stainless steel, copper, and brass cut into amorphous and geometric shapes which have been attached to plywood with brass beads.

For the Longest Time explores the creative terrain and techniques through the combination of delicately rendered man-made materials. The artist explains, "...working in metal is 1% inspiration and 99% hard, dirty work."

When describing his works, Pebworth states, "...each contain an expression of my feeling on life and its contrasts- such as my Indian heritage and the hi-technology present, the personal and the impersonal. The hard machined metals and various soft material combine to show how contrasting elements can assimilate or coexist to create their own energy, somewhat mirroring life."

The Artist
Charles Pebworth was born in Kinta, Oklahoma in 1926. Of Choctaw descent, Pebworth grew up with a sensitivity to his rich cultural heritage and a love for nature. Growing up in Pawhuska and entering high school in 1941, Pebworth was focused on joining the war effort. He joined the Air Force and by 1945 was a paratrooper. When his service was ended, Pebworth benefitted from the GI Bill. His college education started at Colorado A&M (now Colorado State University). There he met a fellow friend who was going to California to study art, so Pebworth joined his friend to study at the Art Center school in Los Angeles. After a brief period at the Art Center, Pebworth went to Pasadena City College, then Baylor University in Texas for two years as a painting major. He left the university to join the Korean War effort. After his service in 1951, he returned to Oklahoma and studied at the University of Oklahoma. Pebworth left for the University of Houston where he earned his Bachelor of Fine Arts and later earned a Master of Art from Louisiana State University in 1957. From 1957 until his retirement in 1993, Pebworth taught art at Sam Houston State University in Huntsville, Texas. From 1958 to 1961, he also taught at the Mexican Field School in Puebla, Mexico. He also served as a guest professor of sculpture at the Corpus Christi Fine Arts Colony of Del Mar Collete in Corpus Christi, Texas and as a guest professor at the Museum of Fine Arts in Texas.

Pebworth exhibited extensively in one-person and group exhibitions across Texas as well as in Arkansas, Oklahoma, Nebraska, New Mexico, and North Dakota. In 1987, he was named Texas Artist of the Year. Pebworth's work is included in many permanent public collections including: the Bobile Art Gallery of Mobile, Alabama; Marshall Field and Company of Chicago, Illinois; Arkansas Art Center; Oklahoma City Museum of Art; and the Astrodome of Houston, Texas.