Watercolor on paper
Dimensions: 22 x 30
Purchased through a National Endowment for the Arts grant, 1972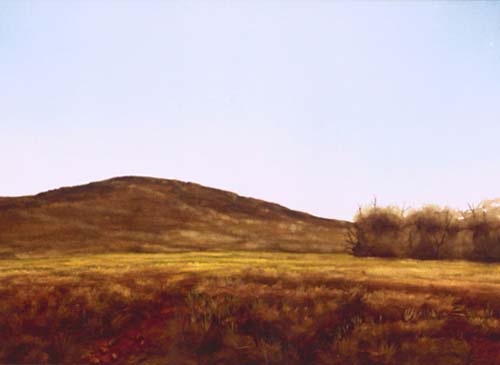 The Artwork
Jack Vallee was well known for his meticulously detailed landscapes. In the 1970s, when this work was created, Vallee explored the use of mysterious light sources amid structures of green, yellow, and brown. He also used color palette that was much like that of the Wyeth family with dark greens, burnt umber, and rich browns.

Though the exact location of which this watercolor was painted is unknown, the artist provides many details to the viewer of the Oklahoma terrain.
The Artist
Jack Vallee was an American Realist. He is often associated with the Brandywine tradition of artists that surrounded the Wyeth Family. Vallee spent his summer with these artists at the art colony at Monhegan Island on the Maine Coast. The rest of the year, he would return to his studio in Oklahoma City to paint. Vallee is most well known for his landscape focused paintings which are meticulously detailed.

During World War II, Vallee served in the South Pacific for five years. He then studied at Midwestern State University in his hometown of Wichita Falls, Texas, and the Art Students League of New York where he studied with Reginald Marsh, Howard Trafton, and Frank DuMond.

Jack Vallee enjoyed a national reputation as an artist, earning many awards included the prestigious Emily Lowe Award in 1953. His work was featured in numerous one-person exhibitions from Texas to Michigan to New York and Washington, D.C. His works belong in the permanent collections of the Connecticut Academy of Fine Arts, Fred Jones Jr. Museum of Art at the University of Oklahoma, and the Berskshire Msueum in Pittsfield, Massachusettes, among others.