Summertime in Bartlesville
by Rose Smith
Acrylic on canvas
Dimensions: 35 x 36
Gift of the artist, 2004.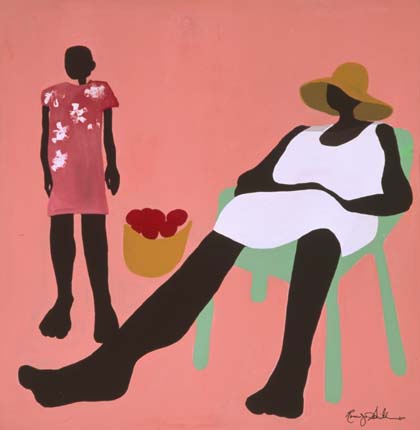 The Artwork
Rose painted Summertime in Bartlesville while living in Oklahoma in 2000. The painting is distinctive in her style, featuring African American women who are large in stature, disproportionate in shape, and elegant in posture. Through Rose's simple composition, color, and style, she is able to express loneliness, dignity, solitude, peace, and tranquility. The starkness of the background keeps the viewer's eye focused on the figures. The women in Rose's paintings are often strong, innocent, and powerful.
The Artist
Born in Kansas City, Missouri, Rose J. Smith began to paint at the age of five and never stopped. Her career started as a design consultant in which she designed women's clothing and display windows for retail stores. She then studied the visual arts at the University of Minnesota. Since that time she has had a varied career even founding and directing a modeling agency. Along with her husband and fellow artist Melvin R. Smith, she has had a prolific career which has led them to travel in search of authentic and empowered African American communities such as Bronzeville in Chicago and Harlem in New York City. These travels have informed her work which may be produced in array of media from watercolor and acrylic to drawing and collage. Along with husband, she co-founded and director the Oklahoma Museum of African American Arts which was located on NW 10th Street in Oklahoma City.

Smith's work has been exhibited across Oklahoma, Minnesota, and New York. Her work can be found in many private and public collections including those of the University of St. Thomas in Minnesota and the University of Minnesota.