Snow by the Cedars
by Cletus Smith
Acrylic
Dimensions: 9 x 12
Purchased through a National Endowment for the Arts grant, 1974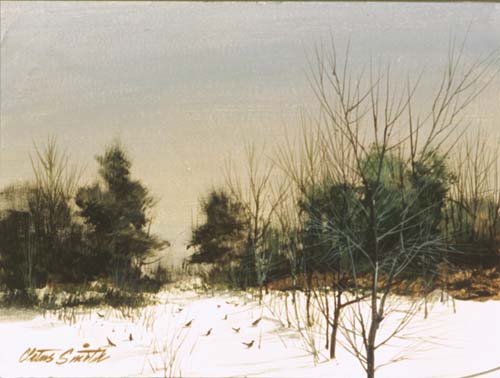 The Artwork
Through the painted image, Cletus Smith is able to encourage the viewer of his work to feel a certain way. Placing this cold exterior scene with in the constraints of a small canvas, the artist is able to allow the viewer imagine being cold and peering out a window onto their snow-covered surroundings.

When asked about the choice of landscapes as his primary subject matter, Cletus Smith responded "Landscapes are my passion! The endless bounty of shapes, textures, light and scenes provide the inspiration. Being in the outdoors, feeling the atmosphere and painting from my emotions of the moment give me a sense of freedom to explore on the canvas."
The Artist
Cletus Smith was born in rural Oklahoma, but spent most of his life in Oklahoma City. In 1964, he graduated with an arts degree from Oklahoma City University. Since that time, he has followed deepening his love and understanding of fine art. He has worked as a commercial artist, illustrator, industrial designer, professor, and fine artist. For eighteen years, Smith taught painting courses at the University of Central Oklahoma. He has been honored for his work in watercolor across the Southwest, and is represented in galleries throughout the country. In addition to his work in formal education, Smith serves as a mentor to aspiring artists.