Blue Symphony
by Charles Reynolds
Oil on board
Dimensions: 20 x 24
Gift of the Oklahoma State Senate Historical Preservation Fund, Inc., 2004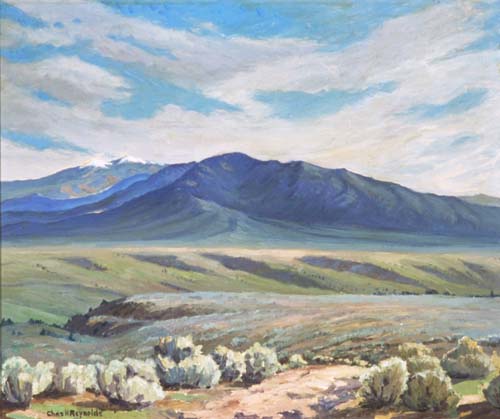 The Artwork
Using a palette of cool colors, Charles Reynolds presents a desert landscape showing the beautiful terraces of land that lay between the viewer and a snow capped mountain on the horizon. The artist uses the light and shadows of the vegetation in the foreground to create an illusion which draws the viewer into the scene. The formation of the cloud structure emphasizes this illusion as they seem to wrap around the viewer.
The Artist
Born in Indian Territory in 1902, Charles Reynolds studied at the University of Oklahoma and the University of Tulsa. He graduated from an accounting school in Tulsa. He found employment as an accountant for Skelly Oil Company. Reynolds found success as a businessman and was moving up the corporate ladder when his wife was injured. He began painting to help soothe himself through anxious hours. He found a passion for the visual arts, and in his pursuit of art education, Reynolds studied one summer at the Chicago Art Institute. Later he studied under artist John Eliot Jenkins from the Academie Julian. Reynolds then discovered the artist community in Taos, New Mexico, where the higher altitude was better for his wife's health and a positive change for the family. After moving permanently to New Mexico, Reynolds was instrumental in forming the Taos Artists Association. He also opened an art gallery in his new home similar to the art gallery and frame shop he had owned in Tulsa.

Reynolds' work was exhibited in regionally and nationally in group exhibitions and one-person shows at institutions such as the the Connecticut Academy of Fine Arts, Oakland Art Museum, Louisiana State Museum, Oklahoma Art Center, Philbrook Art Center, and the Harwood Library of Taos, New Mexico. His work is included in many collections including the Gilcrease Foundation and the Koshare Museum of La Juanta, Colorado.