Everyone Loves a Clown
by Ronald Radcliff
Acrylic on canvas
Dimensions: 60 x 48
Purchased through a National Endowment for the Arts grant, 1972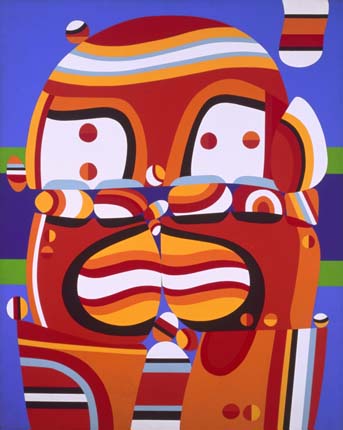 The Artwork
Using circular shapes and complementary colors, Ronald Radcliff presents an abstracted image that the viewer may find reminiscent of a clown's face.

The artist explains his work, "My work is primarily involved with color, shape, and juxtaposition of one form opposing another. There is a constant state of tension or vibration of the whole which invites the viewer to respond."
The Artist
Ronald Radcliff was born in Blackwell, Oklahoma. He earned his Bachelor of Arts and Master of Arts in Education from Central State University (now University of Central Oklahoma). Radcliff taught art at Moore High School in Moore, Oklahoma for ten years, and also taught college courses until 1994. Over the course of his career, he had a significant influence on artists as an instructor and gallery owner of the Blue Apple Gallery in Norman, Oklahoma.

Radcliff is an artist without limitations in media as he is equally adept in pencil, paint, and clay. He has had many one-person shows including the Contemporary Arts Foundation and Southwestern State College (Southwestern Oklahoma State University). His work is included in many permanent collections including the University of Oklahoma, University of Central Oklahoma, and the Oklahoma City Museum of Art.