The Sower
by Benjamin Harjo, Jr.
Woodcut
Dimensions: 9.75 x 12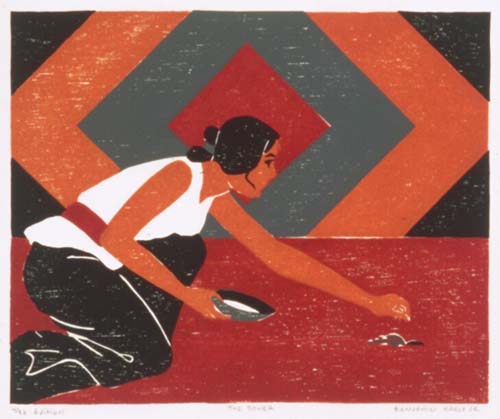 The Artwork
This woodcut print by Benjamin Harjo, Jr. was produced in the early 1980s. With a palette of four colors, the artist is able to present a mood that reflects hard work and austerity. The field of red dirt in which the woman plants the seeds is reminiscent of the Oklahoma soil. Emphasis draws the viewer's attention to the woman's face in the center of the image through a symmetric pattern of concentric squares.
The Artist
Considered one of the nation's leading Native American artists, Benjamin Harjo, Jr., is Seminole and Shawnee. Harjo's formal education includes two years at Santa Fe's Institute of American Indian Arts and a Bachelor of Fine Arts from Oklahoma State University. Over the course of his career, Harjo has garnered numerous honors and awards including the 1987 Red Earth Grand Award, 1993 Heard Museum's 34th Annual Featured Artist, Featured Artist in 1992 and 1993 for the Smithsonian's National Museum of the American Indian's Annual Aspen Benefit, and the Gold Medal Award at the 1990 American Indian Cowboy Artists' Witchita Show.

Additionally, Harjo was honored with a commendation by former Oklahoma Governor David Walters for his selection by Absolut Vodka to represent Oklahoma in its USA Today campaign. In 1990, he was the recipient of the Woody Crumbo Memorial Award for Excellence in Painting at Santa Fe's Annual Indian Market, an event where Harjo has consistently received Best of Division and first place awards in various categories since 1983. One-man museum shows include the Wheelwright Museum Skylight Gallery and the Wichita Art Museum in 1991. Harjo also participated in the 1992 group show of Native American artists at the Franco-American Institute in Rennes, France.

His work has been featured in numerous regional and national publications including Art of the West, Oklahoma Today, Southwest Art Magazine, American Indian Art, and Indian Market Magazine. Harjo's paintings and graphics have been privately collected throughout the U.S. and abroad and featured in public collections such as the Fred E. Brown Collection at the Oklahoma Museum of Natural History and the Red Earth Center, both located in Oklahoma.