Taylor Painter-Wolfe
Upland
North Gallery - April 2023 – June 2023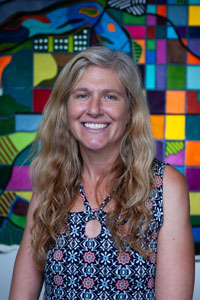 Taylor Painter-Wolfe is a fiber artist and art teacher from Tulsa. Referencing aerial photographs, satellite images, and her own photography, Painter-Wolfe creates abstract landscapes from felted wool she makes and dyes herself. The artist says, "from high above, the details of a place are stripped away leaving only an elegant design of intersecting shapes, colors, and lines. I look at thousands of miles of land and turn it into mere inches of stitched felt, providing a unique overview of an expansive space that cannot adequately be seen and understood from the ground. I am particularly interested in representing landscapes where natural and man-made environments intersect and have a compelling influence on each other."
Her current exhibition depicts the importance of water systems to mankind, wilderness, and agriculture. Rivers shape land and territories, form borders, yet enable travel—they are a life source and a source of inspiration.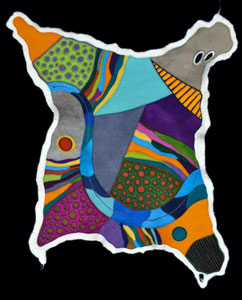 Handmade methods foster Painter-Wolfe's relationship with her materials, allowing the materials to develop organically as she embraces their inconsistencies. The resulting imperfections become integral to the work.
Painter-Wolfe studied fiber art at the Kansas City Art Institute, where she received her Bachelor of Fine Arts in 2003. She obtained a Master of Education from the University of Washington in 2011. Painter-Wolfe has held teaching positions throughout Oklahoma and continues to work with students of all ages through education programs at the Philbrook Museum of Art and Waterworks Art Center in Tulsa.
She also serves as an Art Tech teaching artist with the Oklahoma State Department of Education.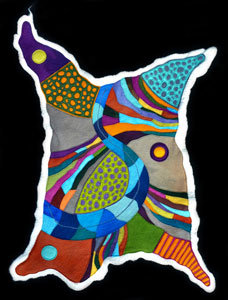 Painter-Wolfe has shown her artwork in solo exhibitions at the Kansas City Artist Coalition and Living Arts Tulsa, among others. Her work has been included in numerous regional group exhibitions in venues such as 108 Contemporary and the Hardesty Art Center in Tulsa, ARTSPACE at Untitled in Oklahoma City, and the Morton J. May Gallery in St. Louis. A 2018 installation, "Green Country Air," was on view for a year at the Tulsa International Airport. In support of her work, Painter-Wolfe has earned grants and fellowships from the Oklahoma Visual Arts Coalition and Tulsa Creates Together. The latter supported the creation of The Magic City, an artwork included in this exhibition and one of Painter-Wolfe's largest felted wool artworks to date.
About the Oklahoma State Capitol Galleries
The Oklahoma Arts Council supports the work of professional Oklahoma artists by showcasing their work in three galleries in the Oklahoma State Capitol. Exhibitions exemplify the outstanding and diverse artistic talent of the people of Oklahoma while enriching lives and promoting public interest and understanding of the arts. Exhibitions in the North, East and Governor's galleries rotate every 60 days and are viewed by thousands of people from around the world who work in and tour the historic building.
Portfolio Submission
Artists interested in having their artwork considered for exhibition in the Oklahoma State Capitol galleries may submit their portfolios using the link below. Submission of a portfolio does not guarantee an exhibition.