Douglas Shaw Elder
Scapes
Governor's Gallery - August 11 - October 5, 2014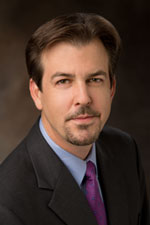 As a sculptor, Norman artist Douglas Shaw Elder begins his creative process through the meditative and methodical imagining of a three-dimensional form. Ultimately, the method and manner of the work become the beautiful and painful challenge of his artistic process. Elder explains, "I have always been attracted to the physical quality of materials to create form; each material of the sculptor carries a history of purpose and meaning which needs to be understood in order to capitalize on its implication concerning subject, form, and content. It is the journey, the search for the undiscovered in the use of materials to create form, which compels my relationship with sculpture."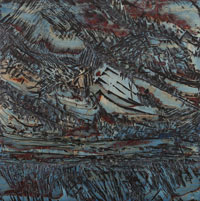 Recently, Elder's creative journey has led him to take his sculpture in a two-dimensional direction, exploring relief sculpture. For the works in this exhibit titled Scapes, Elder used polychrome plywood as his medium. He drew his initial compositions directly on the laminated plywood, many inciting the illusion of landscapes. Elder used chisels, angle grinders, a power planer, and even a chainsaw to carve into the plywood. The array of carving tools offered a wide variety of line weight and depth of texture. For color and finish, Elder applied stains and sealers at numerous stages throughout the carving process.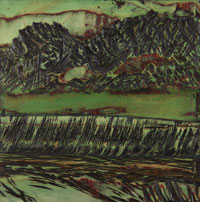 Born in Saint Joseph, Missouri, Elder earned a Bachelor of Fine Arts from Missouri State University after serving in the United States Army. He also completed a post-baccalaureate program in painting at the Pennsylvania Academy of Fine Arts and earned a Master of Fine Arts from Boston University where he also taught drawing and sculpture for six years. Elder has also taught drawing at the University of Oklahoma and traveled to the University of Sydney at the invitation of Professor Dan Lovallo to expand previous research begun at the Wharton School of Business on creativity and innovation.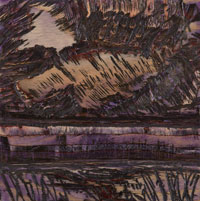 In 2007, Elder became the Executive Director of the Firehouse Art Center in Norman, Oklahoma. Since then, he has taken on the role of arts education and non-profit consultant and serves on the Norman Public Arts Board and committees for Creative Oklahoma, TedxOU, and the Oklahoma Artists Network. In 2012, Elder received the Norman Arts Council's Fowler Arts Education Award, and under Elder's leadership, the Firehouse received a 2012 Oklahoma Governor's Award for Arts Education.
In addition to teaching and a career in arts administration, Elder maintains his practice as a working artist at his home studio in Norman. His artwork has been exhibited in Massachusetts, New Hampshire, Pennsylvania, Texas, Missouri, Arkansas, Oklahoma, and Australia.