Janice Mathews-Gordon
Wanderings
Governor's Gallery - April 29 - June 30, 2013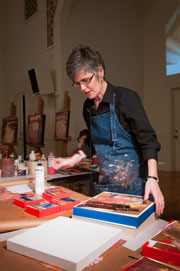 Janice Mathews-Gordon is an experimental painter and mixed media artist who resides in Oklahoma City. She attended Southwestern Oklahoma State University in Weatherford, followed by Westminster College in Fulton, Missouri, where she earned her Bachelor of Fine Arts in 1981, becoming the first woman graduate, and class valedictorian, of a historically male college. In 2003, after a successful, 25-year career running her own graphic design firm, Mathews-Gordon returned to study studio painting as a graduate student at Oklahoma City University. She has worked as a full-time studio artist since 2007.
For the artwork in this exhibit, titled Wanderings, Mathews-Gordon experiments with acrylic paint and mixed media to explore the journeys we embark on during a lifetime. The compositions are set against a backdrop of abstract shapes, suggestive of the rocky land formations and wide-open spaces known to Oklahoma and the Southwest. Mathews-Gordon explains, "Here, journeys are not depicted in linear form; rather, the jumbled shapes, symbols, and complementary colors convey shifts, obstacles, and pauses. They are a visual representation of the inherent dichotomies that compose our lives."

"In these explorations," she continues, "symbolic imagery surfaces constantly as I define figural or bird shapes, or abstract segments of a window, door or house. Figures weave in and out of shapes, some of which represent choices, possibilities, encounters, and respites. Abstract elements of a house suggest leaving or returning home, fleeing or staying. Rectangular indications of windows may signal looking in or out; they may form barriers or enable sight. A bird shape conveys a moment, a speck of time, or perhaps something outside of oneself, possibly an observer."
Textures play a recurring role in this series. The surface of the hardboard or canvas is cut by large sections of buckled, wrinkled papers; on some, sticks or leaves protrude. Paint has been applied both heavily and thinly, enhancing built-up textures. Acrylic colors range from watery transparent layers to mask-like opaque layers, with gesso acting as a conduit for many of the cloudier layers. Large and small areas of converging complementary colors create both excitement and unease. Shades of green and turquoise suggest growth and change, or create a sense of respite and comfort. Red and red-orange thread throughout all of the pieces which evoke emotions of longing, frustration, and even thwarted passion. Other colors add visual punctuation, echoing the tenor and light of the Oklahoma plains.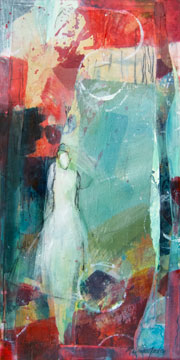 Oklahoma poet Judith Tate O'Brien writes: "Even though we tell it like a road, the fact is life is a forest. Messy. Meandering. Broken. Tripped up by undergrowth." Through this exhibit, the viewer is asked to consider the journey embarked on by us all, with its unpredictable shifting, momentary pauses, and elusive controllability.
Mathews-Gordon's paintings have been accepted into six national exhibits; she won awards at three of those. She has been accepted into many other juried shows, and frequently receives awards. Her artwork is included in the permanent collection at her alma mater, Westminster College. Mathews-Gordon's work was recently featured in an exhibit titled Beneath the Surface, that showed first at the IAO Gallery in Oklahoma City in 2011 and then at Leslie Powell Gallery in Lawton in 2012. She is currently represented by In Your Eye Gallery located in the historic Paseo Arts District as well as ARTifacts Gallery in Eureka Springs, Arkansas.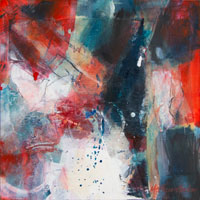 Mathews-Gordon recently chaired two exhibits for the Oklahoma Watermedia Association (OWA): the 2010 Mixed Media Collage Juried Exhibition and National Watermedia Oklahoma 2008. She also supervised placement and hanging of accepted works into the Oklahoma Art Guild's 2012 national juried show, Oklahoma Friendly. Additionally, Mathews-Gordon served as a juror for both the 2011 and 2010 Paseo Arts Festival.