Helen Howerton
Heartland Inspirations
Governor's Gallery - July 8 - September 8, 2013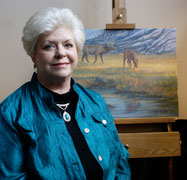 Helen Howerton, a native of Tulsa, always knew she would be a professional artist. She created her first oil painting at the age of eight and has maintained a steady focus on creating art since then. As a senior in high school, one of her paintings was exhibited at the Gilcrease Museum in Tulsa.
Howerton studied art at the University of Tulsa, earning a Bachelor of Fine Arts in 1966. She went on to work for Oklahoma State University as a commercial artist, followed by several years in the advertising industry and commercial illustration. It was the experience of working as a freelance artist that led her to establish a fulltime career as a studio artist, a career that has now spanned more than 25 years.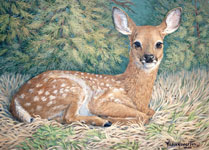 Howerton is acclaimed for her paintings of wildlife and Western subject matter. In this exhibit, titled Heartland Inspirations, Howerton has painted images of her home state of Oklahoma including the landscape and wildlife. She often paints in oil and acrylic media and has developed a style of portraying realistic images of animals set against loose and fluid backgrounds created by using acrylic paints as a wash. Often, Howerton paints en plein air, which means in the open air, or from her own reference photographs.
Howerton's paintings have been exhibited at prestigious venues across the country, including the Ronald Reagan Presidential Library and Museum, Simi Valley, California; the Olaf Weighorst Museum, El Cajon, California; the Old West Museum, Cheyenne, Wyoming; the C.M. Russell Museum, Great Falls, Montana; and several venues in Oklahoma including the Gaylord Pickens Museum, Oklahoma City; Philbrook Museum of Art, Tulsa; and Woolaroc Museum and Wildlife Preserve, Bartlesville.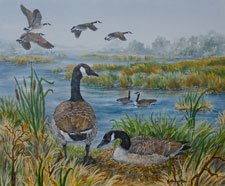 Recent juried exhibitions of Howerton's artwork include Le' Chaime (To life) at the Sherwin Miller Museum in Tulsa; Tulsa Sights & Sounds, Tulsa Historical Society Museum; Paint the Parks Miniatures, Coutts Museum, El Dorado, Kansas; and Collector's Reserve, Gilcrease Museum, Tulsa.
Howerton's art has been featured in publications such as Western Art Collector, Art of the West, and Outdoor Oklahoma. In addition, her artwork is included in a new coffee table book titled Best of America Artists Books Volume III, Acrylics, published by Kennedy Publishing.
Over the years, Howerton's artistic career has grown into more than the production of art. She teaches workshops and classes throughout Oklahoma on the subjects of painting and the business of art.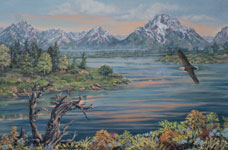 The first oil painting that Howerton created at age eight still hangs in her studio for inspiration. It reminds her of her evolution as an artist. "As a personal philosophy," says the artist, "life as an artist is a continuation of learning. I challenge myself to grow in the exploration of technique, subject matter, and professional skills. My goal as an artist is to capture in paint the beauty in the world of nature. In so doing, may the viewer experience the appreciation and beauty that has inspired the art."