Almira Hill Grammer
Structural Integrities
Governor's Gallery - February 25 - April 21, 2013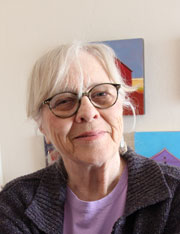 Oklahoma's spare, open landscape with its expansive sky and wide-open spaces defined by fringes of cedar and oak, inspire the artwork of Norman artist Almira Hill Grammer. This exhibit, titled Structural Integrities, explores the landscape studded with barns, silos, and vintage buildings. She captures the character in old buildings and reveals their unique personalities through rich color and elimination of details.
"Barns are great visual objects on the landscape," says Grammer. "I get very excited when I spot one teetering on a ridge or nestled in a grove of trees. I'm drawn to their different shapes and sizes and their flat, abstract, geometric planes. The spatial relationship that exists between the barn and its outbuildings is also very intriguing. Barns have a mystique about them, especially their dark interiors that appear as impenetrable black openings. They are unique American icons that signify hope in the future, endurance and a commitment to the land." Viewers may respond to the color in Grammer's images while others are triggered by a memory of another place or time. Whatever the response, Grammer says, "I want people to view my work as portraits that say, 'Look at me. I'm still her. I have endured. I have value.'"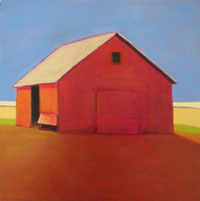 The fluid properties of acrylic paint enable Grammer to paint layer upon layer of transparent color to achieve the luminous effect she seeks in her artwork. She paints on panels made of birch wood because it has a smooth, unblemished surface. Grammer prepares each panel with two coats of gesso and three coats of flat red paint, sanding between applications. She uses red as a base coat because it lends an overall warm feeling to the painting. Grammer paints from black and white photographs because she doesn't want to be influenced by the original color of the subject, instead using her own color to bring out the personality in her subject. "When you look closely at my paintings," says Grammer, "you will see that the red is visible; it gives my image an abstract quality and defines my style."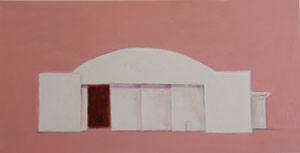 Grammer first established herself as an artist working in pencil, charcoal, and pen and ink and creating intricate, detailed drawings. However, after enrolling in The University of Oklahoma's "Summer in Santa Fe" program taught by noted artist Dr. Carol Beesley, Grammer began experimenting with acrylics. "Trying to capture the luminous color and light of the New Mexico landscape using colored pencils and charcoal in a plein air (painting in the open air) situation was virtually impossible," she explains. This led her to acrylics, and it has been her medium of choice ever since.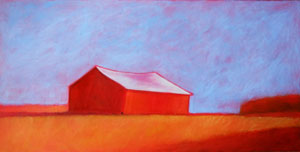 Originally from a small town in Southern Illinois, Grammer has lived in Norman for the past 32 years. Her artwork is a part of many private collections in Oklahoma, and she often participates in juried competitions and exhibits. She is a member of Oklahoma Visual Arts Coalition, Oklahoma Artists Guild, and The Paseo Arts Association. Grammer is represented by: Nault Fine Art in Oklahoma City; The Firehouse Art Center and Gallery 123 in Norman; Simply Oklahoma in Guthrie; and Graceful Arts Gallery and Studio in Alva.