Mikel Donahue
Governor's Gallery - February 27 - April 29, 2012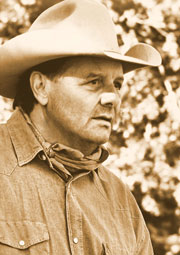 Artist Mikel Donahue of Broken Arrow is best known for his impeccable depictions of cowboy life. His colored pencil drawings and paintings portray ranchers and their livestock during the day-to-day ritual of sun-up to sun-down work on the ranch. What may seem as mundane chores are captured and translated through his artistic style into moments of meaning and reflection.
As described in a 2011 issue of Southwest Art magazine, "A pensive, almost dream-like sheen emanates from most of Donahue's canvases, a result of both his informed approach toward his subject matter and his technical proficiency." A past career in commercial design helped Donahue perfect his sense of composition and understanding of the principles of design and form. His knowledge of the subject matter is aided by time spent on ranches, hundreds of photographs, and numerous sketches and field notes to remind him of certain moments.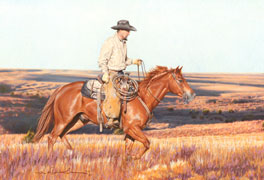 To achieve what Southwest Art describes as "highly atmospheric blends of detailed representations pair[ed] with muted, impressionistic backgrounds," Donahue uses watercolor, colored pencils, and pastels. He begins most canvases by laying down a light watercolor wash and later applying details in colored pencil. The pastels add dimension. "I'm drawn to impressionism in a big way," says Donahue. "Some of my favorite artists use impressionistic techniques."
Donahue, who was born and raised in Tulsa, was taught about life on the ranch by his paternal grandfather who raised cattle in north-central Oklahoma, outside of Sand Creek. It was Donahue's maternal grandfather who exposed him to western art at an early age with memorable trips to Tulsa's Gilcrease Museum and what was then the National Cowboy Hall of Fame (now National Cowboy and Western Heritage Museum) in Oklahoma City. Fascinated both by life on the ranch and the iconic art by the likes of Charlie Russell and Frederic Remington, as an adult, Donahue has become a perfect amalgam of his influences with a life breeding quarter horses on his ranch outside Broken Arrow and an award-winning career in the arts.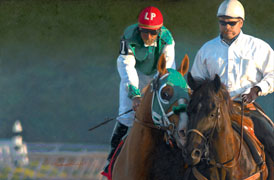 Donahue is the 2011 recipient of the Academy of Western Artists' "Will Rogers Award" for Artist of the Year. In 2010 he was awarded the prestigious "Premier Platinum Award" and the "William E. Weiss Purchase Award" at the Buffalo Bill Art Show and Sale. He is an annual participant in the Prix de West at the National Cowboy & Western Heritage Museum. He has work in many private collections and museums and participates in several shows throughout the year. In 2009 he won the "Artists' Choice Award" at the Buffalo Bill Art Show; and, that same year he was the featured artist at the Americas Horse in Art Show and Sale at the American Quarter Horse Museum in Amarillo, TX. He was honored with a one man show at Remington Park in Oklahoma City during the 2009 quarter horse race meet. He won "Best of Show" two out of three years at the WRCA Art Show & Sale. He has been featured in Art of the West, American Art Collector, Southwest Art, Western Horseman, American Cowboy, America's Horse, and The American Quarter Horse Racing Journal magazines.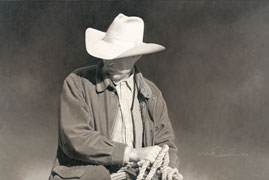 Donahue is currently represented by Trailside Galleries, Altermann Galleries, and Settlers West Galleries. He has donated works to benefit the fundraising efforts of many organizations, including the American Quarter Horse Association and the WRCA Crisis Fund.