Jim Cobb
Varied Styles in Oil Painting
Governor's Gallery - October 1 - December 9, 2012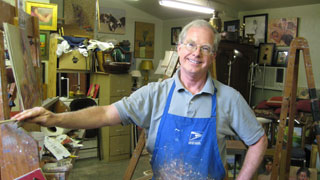 Born in Kansas City, Missouri, Jim Cobb moved to Oklahoma at the age of five and has considered himself an Oklahoman ever since. Although he studied extracurricular art in high school, he went on to study medicine in college and became a surgeon. The passion for art struck him years later while visiting world-class museums with his wife. He began taking drawing courses, then private oil painting classes on Saturdays. "I was immediately hooked," says the artist. "I no longer had time for golf or other activities outside of family." He devoted his time to painting and, now retired, has made a career out of working at the easel for the past 20 years.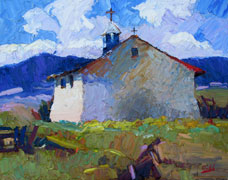 "My formal training came in the form of a tutorial approach which I found far more efficient than the college major, which splits your time with math, social studies, and the like," Cobb explains. "I was able to choose instructors whose work I admired amongst teachers from the Art Students League of New York and the Art Institute of Chicago." Cobb also credits education to the "good fortune" of sharing a studio with successful Norman artist O. Gail Poole for the first 10 years of his painting career.
Of his painting process, Cobb says, "At the beginning of any good painting is a good drawing. One need not draw on the canvas prior to painting, but solid, practiced drawing will reveal itself to the viewer." Cobb believes that all painters should practice drawing as often as possible. "Even [renowned, Dutch painter] Rembrandt wanted to see only the applicants' drawings before taking them on as apprentice."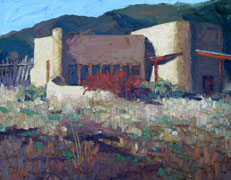 One particular lesson remains constant in Cobb's work: "If you are not willing to change, you will not and cannot get better." Cobb takes that advice when considering style, execution, technique, as well as subject matter. "I feel one should paint everything from still life to portraits, figures, and landscapes." To Cobb, growing as an artist and being able to paint everything with the same high quality is more important than having a signature look or style. "I believe that every painting should be started with at least some enthusiasm regarding the subject matter, and your attitude might just as well be inclined to cause you to think you are about to embark on your greatest piece to date."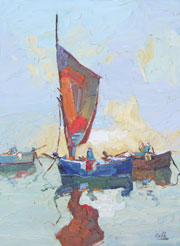 The artwork included in this exhibit, titled Varied Styles in Oil Painting, illustrates Cobb's philosophy.. From the fine details of a traditional still life, the figurative strokes of a dancer's movement, to expressive landscapes painted with a pallet knife technique, Cobb's paintings reflect his practice and time invested at the easel. "I paint fulltime and paint, as possible, from life," says Cobb. "If I can boast of one thing, it would be the fact that I learned work ethics from childhood and may spend more time in front of my easel than anyone I know."
Cobb paints in his studios in Norman and Taos, New Mexico. He has won several awards for painting, including Best of Show and First Place in oil painting at the National Juried Art Competition held annually by the Oklahoma Art Guild. Cobb's art is often exhibited in solo exhibitions as well as commissions. Cobb has taught at the University of Oklahoma and is now instructing privately and at the Oklahoma City Museum of Art.