Gayle L. Curry
Color the Way
Governor's Gallery - December 17, 2012 - February 17, 2013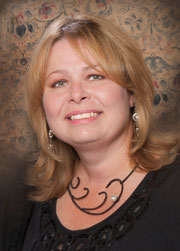 Throughout Gayle Curry's art career, she has worked with various media and subject matter. Recently, the medium of encaustic wax has taken her down a new path of discovery. "Exploring the character and individuality of wax opens up the abstract nature of this media," says the artist.
Curry is particularly drawn to abstraction because of its meditative qualities. "One of the benefits of painting is insight into myself," she says. "Sometimes I find that the painting guides me into a different direction and then it becomes collaboration of heart and mind." This attraction to insight is what led to the creation of the works in this exhibit, titled Color the Way. Here, Curry has interpreted many of the 81 verses of the ancient Chinese text Tao Te Ching, authored by Lao Tzu, a Chinese prophet. "I achieved personal revelations, which I translated into each painting," says Curry. "I employed a technique of applying layers of pigments and encaustic wax to capture the essence of each verse."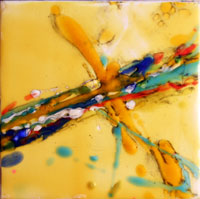 Painting with encaustics (wax) is an ancient art form, which has benefited from a resurgence in recent years. The wax, made up of beeswax and dammar resin crystals melted together, is colored with dry pigment or oil paint. It must be kept hot (about 200 degrees) during the painting process. It is applied with bristle brushes in layers to an absorbent surface, such as birch wood panels. The layers are fused with a heat gun or propane torch.
The word encaustic comes from the ancient Greek, meaning to burn in. Encaustic painting was practiced by Greek artists as far back as the 5th century B.C. Legend recalls that the Greeks applied coatings of wax and resin to waterproof their ships and that this led to pigmenting the wax for decoration.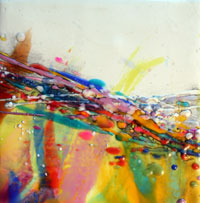 This glazing process allows a depth and richness of color. "I love the extraordinary effects of depth and luminosity that can be achieved, the wonderful sense of transparency that you can play with, and the richness of textural possibilities," says Curry. "What I enjoy most is the involvement with the process itself; the sheer love of beautiful, natural materials, the completion of the process by sealing it with fire."
Curry says the purpose of her work is to find a way to express a vision without being literal. "I explore form, shape, and color and work them on a surface until I evoke emotion," she explains. Color is a significant component of her art. "I thrive on the challenge of its subtleties and possibilities, limitless in articulating a message. Creating tension is also part of my goal. It stirs surface and deep emotion in viewers and myself. I strive to combine calm and crazy, light and dark in order to construct an unexpected reaction."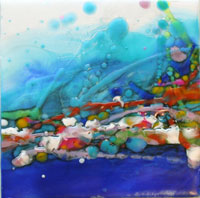 Curry grew up in Cromwell, Oklahoma, and has lived in and around Oklahoma City since 1983. She studied commercial art at Oklahoma State University and owns and operates a commercial art studio. She currently exhibits her art at In Your Eye Studio and Gallery in the Historic Paseo Arts District where she serves as Vice President of the Paseo Arts Association. She also volunteers her time with the Oklahoma Art Guild, helping with workshops and marketing. Her artwork has earned numerous awards from statewide associations.