Tunde Darvay
Serendipity in Color
Governor's Gallery - October 10 - December 11, 2011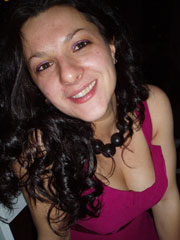 Norman artist Tunde Darvay fuses her Romanian upbringing in Transylvania with her present Oklahoma surroundings to create the mixed media paintings that make up this exhibit titled Serendipity in Color. Influenced by the rolling hills of Transylvania and the colorful skylines of Oklahoma, Darvay's paintings capture the breadth of color and form found on the two continents of her life. "In my art I emphasize the shadow-line between the organic and the inorganic," says the artist. "My aesthetic worldview is profoundly mythical - it depicts a world in which color breathes life into inanimate things in order to create playful, suggestive associations along a broad spectrum of themes and forms."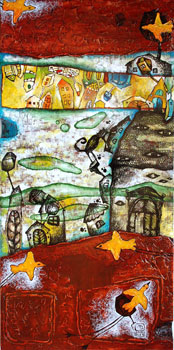 Darvay's artist statement expounds on her images. "Houses have smiling or grinning doors, cheerful, winking, or teary windows, depending on their whimsical personalities. Chimneys protrude as if they were limbs. Trees hold hands and dance together, witnessed by nosy birds, cats, and fish from behind the bushes. Winding roads follow their spiral course according to their own precarious will. The elongated figures with disproportionately long arms connect with each other by taking up awkward postures. Color and composition jointly intend to unveil the immense network of cobwebs connecting all these things together and making them part of a sensitive global universe in which every local quiver is perceived even in the remotest corner."
To achieve the desired aesthetic effect in her paintings, Darvay blurs the line between the traditional spheres to which people often confine things, whether living or inanimate, significant or trivial. The uniquely shaped, handmade wood panels do not enclose but rather extend her works in a direction where figures and objects come together in notoriously unpredictable ways.

The rough surface of modeling paste alternates with the smooth finish of acrylic varnish, just like the successes and hardships in life. "I hope that my compositions will continue to live in the fantasy world of my audience," says the artist. "My goal is for people to be able to touch my paintings with their eyes and see them with their hands."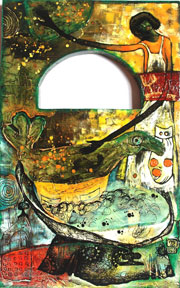 Darvay was born in Transylvania and educated at the University of Fine Arts in Cluj, Romania where she earned her Bachelors of Fine Art. She has lived in Oklahoma since 2004 and became a permanent resident in 2007.
Darvay has participated in national and international exhibits since she was in high school. Her art has recently been exhibited at the IAO Gallery, Istvan Gallery, JRB Art at the Elms in Oklahoma City, Living Arts in Tulsa, and will be featured at the Mainsite Gallery in Norman in 2011. She has been awarded the 2011 Featured Individual Artist Award in Norman, the 2008 Momentum Spotlight Award in Tulsa, and the Prized awarded at the Annual Sketch Contest at the University of Fine Arts, Cluj-Napoca, Romania. Darvay's art is included in many international public and private collections in Hungary, Romania, Turkey, and the U.S. including over 30 paintings at the Boston Consulting Group in Budapest, Hungary.