Paul Walsh
Between Wood and Grass
Governor's Gallery - March 14 – May 15, 2011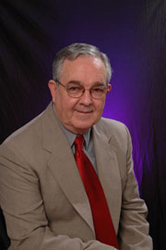 Paul Walsh considers himself fortunate to be an artist living in southern Oklahoma where picturesque scenery is abundant. Walsh says that in and around his hometown of Roff, "the diverse landscape offers a rich theater for a landscape painter. Snuggled here between the eastern woodlands and the prairie is a diversity that enriches the viewer." Walsh's interpretation of the scenery is showcased here in the exhibit titled Between Wood and Grass.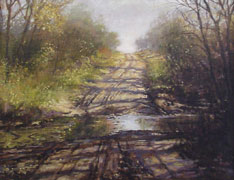 Whether it be the landscapes featured here or structures and people of small town Oklahoma, Walsh paints what he finds interesting in his surroundings. He says he strives to make extraordinary what is thought to be ordinary. "Much of the beauty [of Oklahoma] is subtle and does not reveal itself easily," he says. "The countless hues of grass alone are unique and cause for interest." When choosing his subjects, Walsh says he looks for abstract patterns of light and dark, subtle color changes in prairie fields, or trees silhouetted against the sky or fields. Walsh paints on location when the weather allows, but when it doesn't, he uses photographs as reference.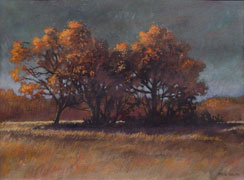 Walsh is a graduate of East Central University (ECU) in Ada where he earned a Bachelor's degree in Art and a Master's in Art Education. After serving in the Army during the Vietnam War he returned to Oklahoma where he taught art in public schools for forty years. The last thirty-five years of his public school tenure were served at Sulphur High School. He recently retired from full-time teaching and now devotes his time to his artwork and serves as an adjunct instructor at ECU. Walsh says he can be found painting most every day. He says, "If you're going to be good at something, you have to do it every day."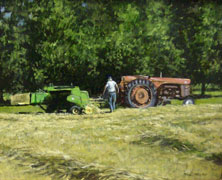 Walsh has received the honor of "Best in Show" from the Ada Artists Association in 2005, 2006, 2007, and 2009 as well as from the Cossatot Art Show in DeQueen, Arkansas in 2009. He was also named the "Gloria Westheimer Best of Show" at the Studio 107 Annual exhibit in Ardmore in 2010. His paintings have been featured in multiple solo exhibitions at venues such as the Leslie Powell Gallery, Lawton; Marvin Embree Gallery, Oklahoma City; ECU, Ada; Southeastern State University, Durant; and the Goddard Art Center, Ardmore.