Holly Wilson
Whispers, Secrets and Other Untold Stories
Governor's Gallery - August 1 - October 2, 2011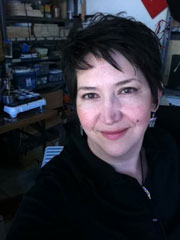 These small-scale, figurative, bronze sculptures and encaustic panels embody the dreams and stories Holly Wilson shares with her family and her Delaware/Cherokee American Indian heritage. The materials and process involved in the creation are manipulated for a personal perspective that honors both the real and imagined aspects of Wilson's life. Her art encapsulates nature, culture, and family and articulates the hope, sadness, fear, and joy that are intertwined in life.
Wilson finds moments of inspiration throughout each day. She says her imagination is sparked by "the way a certain stick looks like a bird in flight, or the amazement of her son when he saw the inside of a geode rock for the first time. These moments begin to intersect, and the work grows from the many elements seen, found, remembered, or felt." These are the moments in Wilson's mind when she creates her art.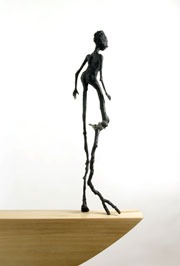 Wilson's whimsical sculptures show a constant theme of a little boy or girl. Each sculpture's story is independent of the others; however, they each portray a raw emotion and tell a universal story of the spirit of youth and quiet innocence.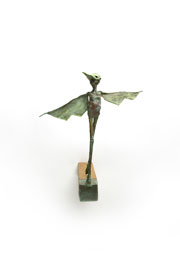 Of the masks which some of the figures bear, Wilson says, "As children we make masks to be anything we want or need to be, and we could do anything in them. These masks are a way to represent the different personas that we need or desire to be in life."
To create her art, Wilson uses the lost wax method of sculpture. The process involves carving the figure from wax and then building a mold around it. The artist then fires the mold to melt and dispose of the wax inside (earning the name lost wax) and then fills the now empty mold with molten bronze. Once the bronze cools and hardens, the mold can be removed and the artist then has a bronze figure that should be identical to the original wax figure (which is now 'lost').
Wilson was born in Lawton. She received her B.F.A. in ceramics from the Kansas City Art Institute and went on to earn her M.A. in ceramics and M.F.A. in sculpture from Stephen F. Austin State University in Texas. Wilson now lives and works from her studio in Oklahoma City. She is a board member of the Oklahoma Art Guild and member of Urban 5, Individual Artists of Oklahoma, and Oklahoma Visual Arts Coalition. Wilson's art has been exhibited nationally.
Click here to veiw an Oklavision.tv interveiw with curator Alyson Moses about Holly Wilson's exhibit.