Elia Woods Changes
Governor's Gallery - May 23 - July 24, 2011
Elia Woods is a fiber artist and photographer whose art explores the connections between food, community, consumerism and spiritual sustenance. Her art has been included in regional, national and international exhibits including Fiber National 2007 and Visions 2006. The art quilt "Salad Ballad," was displayed in Quilt National 2005, distinguishing Woods as the first Oklahoma artist accepted into the international juried competition during its 26-year history. She is also a four-time recipient of the Best of Show honor at Fiberworks, a statewide exhibit of Oklahoma fiber artists. In addition, she teaches fiber arts classes at City Arts Center and the Oklahoma City Museum of Art.
Woods was born in 1961 in Berea, Ohio, grew up near Chicago, and moved to Oklahoma City in 1979. In the red clay backyard of her new home, she discovered that seeds do, in fact, have to be watered in order to sprout and grow. She soon became permanently entranced with the life and death dramas in 100 square feet of her garden. Her gardening efforts expanded up and down her block, and in the mid-nineties she co-founded the Central Park Community Gardens. Her artistic impulses found their home when she enrolled in an alternative photography class in 1984 at Rose State College, "not even knowing how to load a roll of film in a camera", and immediately began applying her newfound techniques to fabric. Over time, her two passions of art and gardening began to merge.
Her current body of work celebrates the beauty of vegetables and explores the sacred trust we have with the natural world.
The artwork included in this exhibit, titled Changes, revolves around the influence human beings have on the environment. Woods says, "Our world has changed. We have changed it. Now, our present and our future have changed."
"Each generation inherits a sacred trust to live in a way that promotes the well-being of all members of our world community. It is time for us to honor that trust." Woods suggests that rather than fearing the damage we could do to our planet's future, we can approach the necessary changes from a place of love, "the simple love of beauty, love for our children, and love of life." She says, "Such a change will play out in a hundred thousand ordinary profound ways. These are the seeds, and they are in our hands."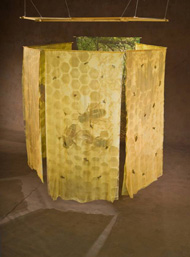 For this exhibit, Woods printed directly onto stabilized fabric with a wide-format inkjet printer.
For years, she has used a heat transfer method of transferring imagery onto fabric. It is the same method as what is often used for transferring designs onto T-shirts, using a photocopier to print an image onto heat transfer paper, and ironing it onto the fabric. More recently, however, Woods became interested in working on a larger scale.
Initially she experimented with standard sized format and her own inkjet printer. She treated the fabric with a product called Bubble Jet Set, which makes prints on fabric permanent and washable when using dye based inks. Then she ironed the fabric onto freezer paper which made it stable enough to run through an inkjet printer.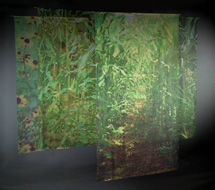 After becoming familiar with the process, Woods bought rolls of treated sheer silk fabric with a paper backing. She took the photos with a digital camera, worked with them in Photoshop, then printed them onto the fabric. After printing, the paper is peeled off, and the fabric is ready to use.
"It's a pretty straightforward process," Woods says, but points out that there can always be bumps in the road. The fabric can wrinkle as it goes through the printer, leaving a long, thin, permanent line through the image. This is more problematic with very sheer fabrics. Because the fabric is so sheer, images print differently on it than they do on paper. Sometimes it's necessary to over-saturate the image before printing it in order for it to come out looking like the original image; this takes some experimenting, and changes depending on the image.
Woods says she has used a variety of silk fabrics: gauze, organza, habotai, and chiffon. Some are sheerer than others. She says, "I am drawn to this effect of being able to see an image and simultaneously see through it. To me, it evokes a sense of time/timelessness, memory, and the presence of things unseen."