Dan Garrett
Steel Canvas
Governor's Gallery - December 19, 2011 - February 19, 2012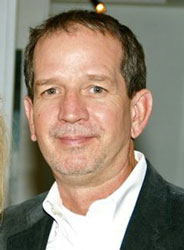 Dan Garrett, a resident of Choctaw, Oklahoma, comes from a creative family and was encouraged from childhood to explore various methods for creating art. His artistic vision has many facets, and his exploration of art media is ongoing. This exhibit, titled Steel Canvas, showcases Garrett's two and three-dimensional metal works.
"I am constantly intrigued by the human response to contemporary art," says Garrett. "This curiosity has led to experimentation with color, shape, and form. The results tend to be graphic and abstract rather than representational in nature."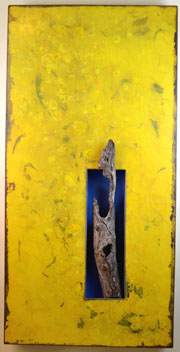 Many of the pieces in this exhibit are created by welding together metal panels in the form of a canvas. Garrett says, "I apply layers of paint or other media and then manipulate them with heat, compressed air, and an assortment of high-speed metal working tools. This not only creates various textures, but also alters the original colors. The amount of paint that is removed from each layer affects how I will continue towards completion. Although I am in control of this process to an extent, it is more of a collaboration between myself and the materials. The unique qualities that this process provides have challenged me to further explore this technique by adding patinas, acid washes, wax, etc."
Garrett's three-dimensional artwork consists of interior and exterior sculpture. The work can best be described as post-modern and abstract. His sculpture methods range from precision plasma cutting and welding to unconventional freestyle sculpting of molten steel with a welding torch.Garrett is also an accomplished landscaper and exterior designer. His artistic endeavors were put on hold while raising a family and pursuing his career; however, his children are now grown and his focus is on his creative exploration.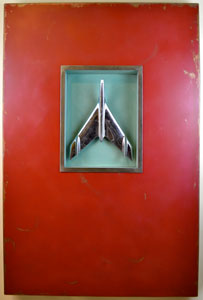 "As I move forward, my understanding of traditional techniques coupled with new technology deepens," says Garrett. "This growth spurs my imagination and makes the entire process, from conception to completion, a rewarding experience."
Garrett is an active member of local visual arts organizations including Oklahoma Visual Arts Coalition, Individual Artists of Oklahoma, and the Oklahoma Art Guild. He is currently represented by the Istvan Gallery in Oklahoma City, as well as galleries in Anchorage, Alaska and Albuquerque, New Mexico. Garrett recently completed an Oklahoma Art in Public Places project for the Oklahoma Turnpike Authority at the Highway Patrol facility in McAlester.
Click here to veiw an interview with Dan Garrett on Oklavision.tv
Click here to veiw an Oklavision.tv interveiw with curator Alyson Moses about Dan Garrett's exhibit.