Dean Wyatt
Waiting for the Moon
Governor's Gallery - April 12 ? June 6, 2010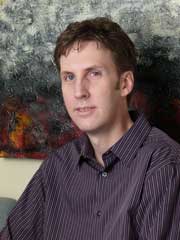 Dean Wyatt finds inspiration for many of his paintings during the twilight hour. The subtle changes of the sky and the colors that wash over the earth at sundown are reflected in his abstract landscapes.
"The transition from day to night has a nebulous quality I find fascinating," says the artist. "There is beauty accompanied by darker undertones. The sun is gone. Distortion creeps in. Land merges into sky. Familiar objects dissolve. And the day succumbs to night."
Although his paintings are often recognized as landscapes, Wyatt doesn't think of himself as a landscape painter. Rather than focusing on traditional landscape components such as trees and flowers, the artist prefers to focus on the basic elements of a scene, including earth, sky, water, and light.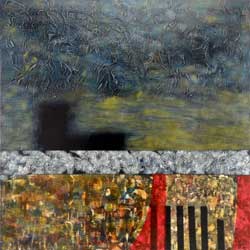 He explains, "I'm more concerned with the composition, color, and mood of the piece than the specific subject matter."
Wyatt works with acrylic paint, which dries quickly and allows for layering of color. He often achieves the drama and depth of dusk by first painting the canvas black. This creates a platform to build from dark to light where Wyatt contrasts the undertones of the twilight sky with strokes of bright color. Texture is created using pallet knives or other objects to scratch into the paint before it's completely dry.
Wyatt grew up in Duncan and remembers sitting with his parents at sunset as they waited for the moon to rise over the Wichita Mountains.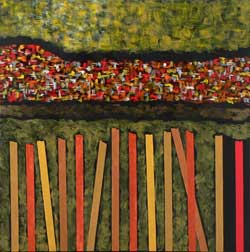 The images of gentle hills and shifting colors first seen in his childhood now play a large role in his current paintings, including the work in this exhibit titled, Waiting for the Moon.
Having learned the basics of art in high school from his teacher, Charles Novotny, Wyatt focused on realism for many years, creating portraits with pen and ink. Spending as long as three months on each portrait, he would meticulously reproduce each feature of the subject. After many years Wyatt realized this medium wasn't allowing him to express his creativity and began experimenting with painting.
"I reached a point where I began to feel limited, like there was only so far I could take a portrait," remarks Wyatt. "Painting in abstraction has allowed me to explore color, composition, and my own creativity in ways I never could with portraits."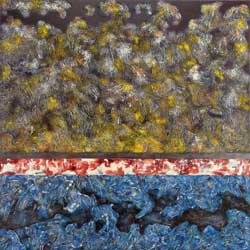 Wyatt currently resides in Owasso and exhibits regularly in Tulsa galleries. He recently served three terms as president of the Tulsa Artists' Coalition. His work was selected for exhibition in both the highly competitive 2007 and 2005 Painting and Drawing Biennial exhibitions sponsored by the Oklahoma Visual Arts Coalition.