Michelle E. Himes-McCrory
Ingrained Nature
East Gallery - November 18, 2013 - January 19, 2014
Michelle E. Himes-McCrory of Stillwater has worked in printmaking for twelve years, utilizing techniques such as lithography, woodblock, intaglio, and monoprint. Printmaking allows her to work with traditional methods while also incorporating modern technology and new techniques. Her most recent series of artwork merges practices associated with printmaking with drawing and painting methods.
To create the artwork in this exhibit, titled Ingrained Nature, Himes-McCrory has used woodblock carving tools, usually associated with printmaking, to carve on clayboard panels, creating intricate, multi-layered compositions.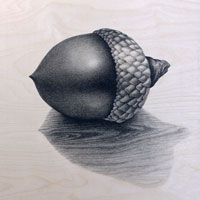 Of her unique process, Himes-McCrory explains that she begins by using artist hardboards that are coated with a thin layer of kaolin clay ground. She then lightly draws her image onto the board and paints one or two light coats of acrylic paint over the image. She then uses carving tools to carve shallow grooves and lines. This removes the paint layer and reveals a thin layer of the clay coating. Once the artwork is carved, she paints back on top with more acrylic paint and adds drawing with graphite, carbon, or colored pencils. "Drawing on clayboard is a slow process, building mark on top of mark with dozens of layers," says the artist.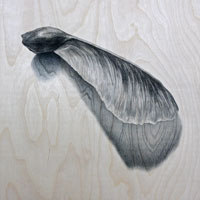 Himes-McCrory's imagery is inspired by love of still life studies and found objects. For several of the pieces in this exhibit, she gathered objects found in her backyard. For others, she incorporated images from antique photo albums that she has collected over the years. Using these photos as inspiration, she creates imagery that combines abstract elements with intricate detailing that pays homage to the past. To Himes-McCrory, the work brings a sense of home and familiarity. "Taking memories of my own along with mementos of strangers and imagined scenes creates a new story for the viewer to decipher," she explains.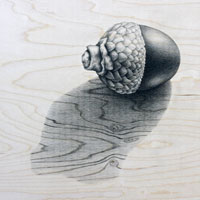 Himes-McCrory was born and currently resides in Stillwater where she has strong roots as one of the great-granddaughters of Frank 'Pistol Pete' Eaton, the legendary cowboy and mascot of Oklahoma State University, New Mexico State University, and the University of Wyoming. She has also lived in many other states around the country and began her study of art at the Pacific Northwest College of Art in Portland, Oregon, where she focused on illustration and printmaking. Later returning to Stillwater, she graduated from Oklahoma State University with a Bachelor of Fine Art.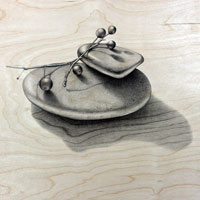 Himes-McCrory now works out of her studio in Stillwater and teaches art courses at Oklahoma State University. She exhibits her artwork regularly across the state with recent exhibitions at the Ponca City Art Center, Paseo Originals Gallery in Oklahoma City, and the Leslie Powell Gallery in Lawton. Himes-McCrory is the recipient of numerous awards and grants for her artwork including the Professional Basics Grant from the Oklahoma Visual Arts Coalition and the Hoffner Award of Merit at Momentum in Oklahoma City.